Main content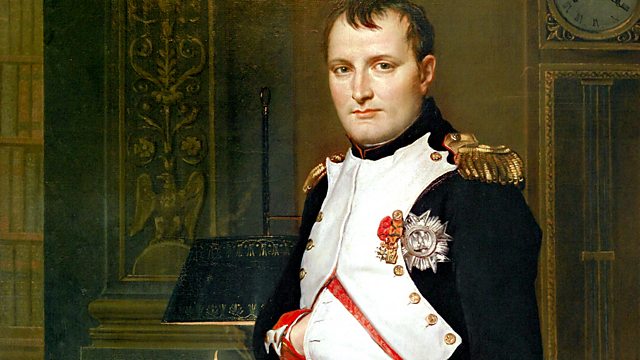 Donald Macleod explains why, although Napoleon's singing voice was reputedly terrible, he coupled his military crusades with an ardent love for music.
As part of BBC Radio 3's Napoleon season marking two hundred years since his historic retreat from Moscow, Donald Macleod follows the French dictator's relationship with music.
As Napoleon indulged in his multi-day coronation as Emperor in 1804 he was far from the first national leader to be anointed to the sounds of the finest music. Yet the way in which he did it, and the artists he chose, hint at a lifetime fascinated by the power of music to rally a nation.
Napoleon was ever a lover of ceremony, but as the crown was placed on his head he faced the people, not the altar. Likewise in his music he had engaged some of Europe's most talented court composers, yet preferred the jingoistic marches and hymns of the Revolution to symphonies.
During the week, Donald Macleod strips back the military facade to discover Napoleon's real musical passions. We meet a man devoted to Italian opera, a glutton for the cult of Italian singers in particular, and a leader who saw a political value in music so great that he stepped in to rescue Paris's great theatres personally. We see him commemorating the life of a much respected colleague in music, and spending unfathomable amounts of money luring musicians to his chapel and court ensembles. But we also discover the tensions between Napoleon and the great composers of his day, the likes of Berlioz and Beethoven whose revised dedication in the 'Eroica' symphony remains the stuff of supposition and speculation.
And what of the popular music Napoleon might have known? Historian Laura Mason offers glimpses during the week into the raucous singing which filled Paris's streets and cafes. We discover the legend behind the creation of La Marseillaise and the battles which were enacted between rival factions through the medium of song.
The week begins in the years before Napoleon's consulate. We meet a young army apprentice steeped in the culture of his native Corsica, and soon in the habit of singing at the top of his voice while his servant Constant helped him dress. And what he lacked in his own musicianship he would quickly make up for by enticing the very best composers of Europe to join his political and cultural crusade.
More episodes
Previous
You are at the first episode