Main content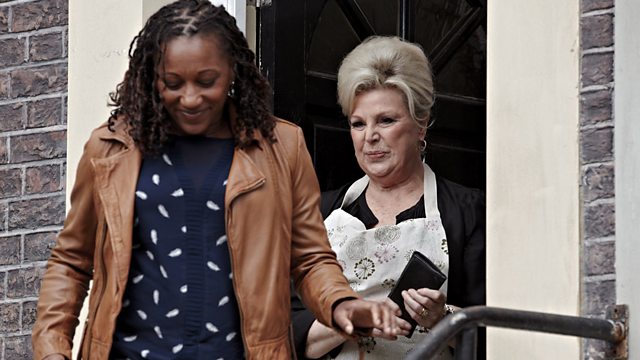 22/11/2012
Tanya plans to spend the day bonding with Cora, but their afternoon takes an unexpected turn. Lauren and Alice are horrified when Derek and Joey come to blows at the gym.
Tanya goes to 'put things right' with Cora, proposing they make her wedding cake together. Reluctantly, Cora ditches her 'date' with Patrick and agrees. Lauren finds a brochure from Ava's school. Why was Tanya in Dalston? Tanya realizes her purse is missing. Having recognised what Cora must've gone through giving Ava away, Tanya tells Cora she's a good mum and she loves her. Kim and Denise arrive with wine. Eventually they leave, followed by Tanya. Ava arrives with Tanya's purse. Cora invites her in, discovers Tanya's been to a school in Dalston, and worries she's moving there. Tanya returns and Cora discovers who Ava is.
It's the boxing open day at the gym, but Alice is a no-show. Ray needs help and can't find it. Jack and Max are boozing, Kim disappears and the Gazette is coming! Alice arrives, asking Ray why he told Derek she fancies him; Ray denies it. The council arrive and witness the drinking. Joey overhears Alice asking Derek why he lied about Ray. Derek corners Joey. There's a bang. A bloody-faced Joey emerges, claiming Derek punched him. Derek argues he didn't. Joey tells Alice to leave Derek's house. Joey and Lauren sneak off for a kiss; this time Derek sees more than just Joey.
Poppy reveals to Fatboy, Whitney and Tyler that her younger (engaged) sister Tansy, who's made it, is coming to visit. But Poppy's told Tansy she owns a salon - will they pretend to be her staff? Tansy enters, boasting about her engagement. Fatboy pretends to be Poppy's career-driven partner, but Tansy catches them out. As Poppy apologises, Lucy and Whitney burst in, acting as her staff. Upset, Tansy reveals she's split up with her finance, and Poppy has it all. Poppy denies this, but Tansy insists: she's got Fatboy. Poppy and Fatboy kiss.
Music Played
Timings (where shown) are from the start of the programme in hours and minutes
Credits
| Role | Contributor |
| --- | --- |
| Cora Cross | Ann Mitchell |
| Tanya Cross | Jo Joyner |
| Ava Hartman | Clare Perkins |
| Derek Branning | Jamie Foreman |
| Joey Branning | David Witts |
| Lauren Branning | Jacqueline Jossa |
| Max Branning | Jake Wood |
| Jack Branning | Scott Maslen |
| Alice Branning | Jasmyn Banks |
| Ray Dixon | Chucky Venn |
| Kim Fox | Tameka Empson |
| Denise Fox | Diane Parish |
| Patrick Trueman | Rudolph Walker |
| Arthur 'Fatboy' Chubb | Ricky Norwood |
| Poppy Meadow | Rachel Bright |
| Tansy Meadow | Daisy Wood-Davis |
| Lucy Beale | Hetti Bywater |
| Whitney Dean | Shona McGarty |
| Tyler Moon | Tony Discipline |
| Mo Harris | Laila Morse |
| Executive Producer | Lorraine Newman |
| Director | Lance Kneeshaw |
| Writer | Matt Evans |