Main content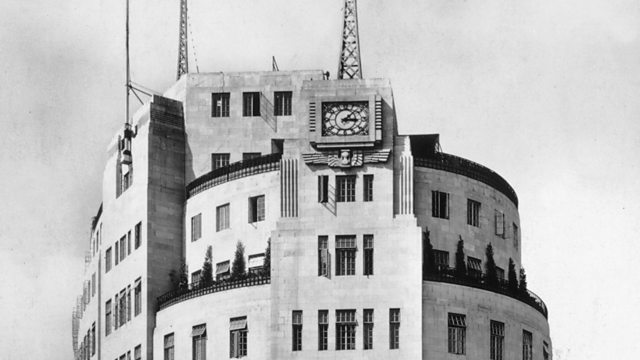 Chicken farmer-turned-BBC Radio pioneer Roger Eckersley's behind-the-scenes memories of the brand new Broadcasting House of 1932. Read by James Fleet. From November 2012.
Roger Eckersley was persuaded in 1923 to give up his loss-making chicken farm and join the newly formed BBC. He stayed there for the rest of his career, holding many positions including Director of Entertainment.
Eckersley's memoirs, The BBC and All That, published in the 1940s, include beautifully drawn descriptions of the first month in the now iconic Broadcasting House, after the BBC moved there in 1932 from Savoy Hill. He often smuggled in small groups of friends for unofficial tours of the hidden areas of the BBC, including drama studios, sound effects stores and the boiler room in the basement - his favourite.
He had a wonderfully unstuffy and rebellious nature - surprisingly appropriate for a BBC that was regarded by the Establishment of the time as an unruly upstart. He relished tales of being banned from broadcasting live football commentaries, so paying a string of eye-witnesses to leave the ground at regular intervals and give descriptions of the action they had just seen. He was part of the Pronunciation Committee when George Bernard Shaw and poet laureate Robert Bridges almost came to blows over the how to say "acoustic", and found himself in a discussion about jazz with Queen Mary during which, he learned from an appalled friend afterwards, he had persisted in calling her "My Dear".
The BBC and All That brings to life once more the feelings of awe and excitement experienced by the radio pioneers who worked within the walls of the brand new Broadcasting House.
Abridged and Produced by Neil Cargill
A Pier production for BBC Radio 4.
More episodes
Next
You are at the last episode