Oxfordshire
Chaired by Eric Robson, the GQT team is in Oxfordshire for this week. Taking the audience's questions are Pippa Greenwood, Matthew Wilson and Anne Swithinbank.
Produced by Howard Shannon
A Somethin' Else Production for BBC Radio 4.
Q. I like colourful, blousy hanging baskets. I have given up using Busy Lizzies because of the virus and Petunias didn't work well. Can the panel suggest a flower I can use instead?
A. Pelargoniums, particularly ivy-leaved varieties, would do well in the wet weather, unlike Petunias. Plectranthus would offer a good combination in terms of foliage, as will Helichrysums. Balcon Geraniums are also suggested, as are Fuchsias, particularly from a specialist nursery.
Q. I have a 4-year-old Campsis growing on a south- and west-facing wall, but it hardly flowers. I prune in spring, feed with potash and improve the soil with compost. How can I improve flowering?
A. Campsis can be shy to flower. It is possible that the quality of the soil is too good or too nitrogen-rich, so restricting the roots and creating stress might prompt flowering.
Q. I have a potted greengage tree that I would like to transplant. When would be the best time and where in the garden would benefit it most?
A. A sheltered spot with a reasonable amount of sun will be best location. Autumn is a good time to transplant, but being in a container over winter could result in damage to the roots, so the sooner you can plant it out, the better.
Q. What is the best way of getting rid of Field Bindweed permanently? I have recently removed a hedge as a result of Bindweed?
A. The simplest (chemical) way to remove Bindweed is to use Glyphosate, applied in springtime during active growth. If you would prefer not to use chemicals, train newly emerging shoots up a bamboo cane, which will aid manual removal. Covering the area where the hedge was in black polythene will draw the bindweed roots to the surface to aid removal.
Q. I'm thinking of planting Sweet Woodruff in the dry shade under a trampoline. Do the panel have any other suggestions?
A. Geranium Nodosum or Lamiums would also do well in that environment. Alternatively you could sink the trampoline and plant ferns beneath it.
Q. I have an 18in tall Holly tree, which I would like to reach maturity but also want to remove 45 percent of its lower branches. Should I do this whilst it is growing, or once it has reached maturity?
A. Some can be removed when the plants are still quite small, but do not remove all of it at once as that could stunt the tree. This is best done gradually.
Q. I have what I think is a Rambling Rose. It has pretty, small, pink flowers, but the leaves and flowers only grow from around 2-3m up the stems. Is it possible to encourage growth lower down?
A. The best treatment for a Rambling Rose is to remove the oldest stems every year, aiming to remove all the original stems over a period of three years. Train some of the more flexible stems towards the horizontal, which improves flowering potential.
Q. My Robinia Pseudoacacia is slowly dying and losing its leaves. Why is this happening and what can I do?
A. This is probably the result of one of the Phytophthora soil-borne diseases and there is unfortunately nothing that can be done. The Robinia will need to be removed and should be replaced with something herbaceous rather than woody. Gleditsias, such as Gleditsia triacanthos Sunburst, are tougher than Robinias, but are from the same family so shouldn't be planted in the same spot. Ptelea Trifoliate 'Aurea', the Golden Hop Tree, is in a different family so might be worth trying.
Q. I have grown a Colocasia Esculenta from a tuber, which now has four shoots. How should I keep it over the winter, as I have an unheated greenhouse? Would it be possible to divide the plant?
A. Let it die right back and bring the pot of tubers inside the house. Keep then dry, but with occasional watering. Replant them in March or April and then move them outdoors when you can. You can split them at the point when you replant.
Q. We would like to adapt some of our allotment plots to allow the less able or active gardener to continue gardening as age begins to take its toll. Do the panel have any tips?
A. You could pair these gardeners with new allotment holders, which would be mutually beneficial. Also, you could offer a smaller-sized plot to both old and new members.
You could pair these gardener.
Last on
Hedging their bets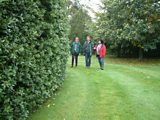 Pippa Greenwood visited Liz and Merlin at Nicholson's Nurseries in Oxfordshire to talk hedges for this week's feature. Liz recommends Osmanthus Delavayi for an evergreen, fragrant hedge.