Main content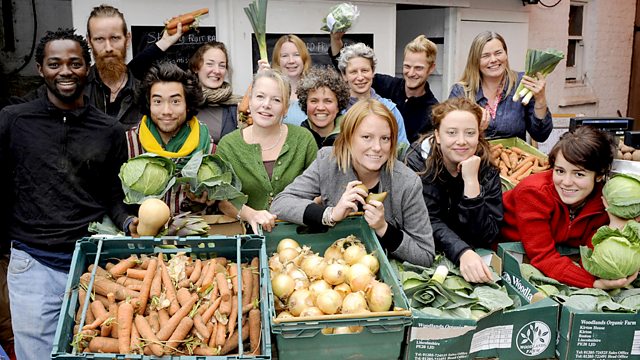 BBC Food and Farming Awards 2012
Sheila Dillon and Valentine Warner present the 13th annual BBC Food and Farming Awards, featuring Angela Hartnett, Raymond Blanc and Countryfile's Adam Henson.
Sheila Dillon and Valentine Warner present the 13th, annual, BBC Food & Farming Awards, featuring Angela Hartnett, Raymond Blanc, Paul Hollywood and Countryfile's Adam Henson.
Recorded at the BBC Good Food Show, inside the NEC, Birmingham, chefs, food writers and drinks experts announce the winners in nine different categories, from Best Street Food or Takeaway to Best Food Market.
The event was the climax of a six month search for the best of British food and drink and the event proved to be a rich mix of food stories are on offer. A perfect start to Christmas morning.
Producer: Dan Saladino.
Last on
Who decided which of the nominations reached the shortlist and who eventually won?
Food and Farming Awards 2012 - The Winners
BEST BIG FOOD IDEA
Growing Communities, UK, Growing Communities has been running a successful community-led organic box scheme in Hackney for 18 years. The nomination said, "Growing Communities' model of community-led trade can help build a food system that is fairer, more resilient and less dependent on fossil fuels." They are now spreading their model by working with six different communities across the UK. 
Other Finalists: Cornish Food Market in Falmouth, Sainsburys Fairshare
Also on the Shortlist: Pembrokeshire Produce Direct, Arkwright Meadows Community Gardens, Booths Forgotten Food in Preston, Waitrose UK, Manchester Fruit & Veg People, The Sustainable Restaurant Association in London, Incredible Edible in Todmorden
BEST DRINKS PRODUCER
Once Upon a Tree, Ledbury, a team that draws on winemaking skills to capture the true characters of home-grown apples in a range of ciders, perry, apple & pear juice. The nomination said, "Their success is all down to the quality of the ingredients being used, and by sourcing and producing the products on site, their food miles are measured in food feet and inches!" 
Other Finalists: Kilchoman Distillery, Kernel Brewery
Also on the Shortlist: Ridgeview in Ditchling Common, Ilkley Ale, Red Willow Brewery, Garden Cider Company, Aspall Cyder, Sipsmith, Lovely Drinks in Barrow Gurney 
BEST FOOD PRODUCER
Westcombe Dairy, Shepton Mallet, Somerset, has been making Cheddar for over 100 years. It has three herds of Friesian-Holstein cows. Their milk is used to produce a traditional unpasturised Cheddar. The nomination said: "Small dairy, local, working to find a foothold in bigger markets, while holding on to everything that is important about staying true to roots and the local community."
Pump Street Bakery, Orford, Suffolk, a small, family-owned bakery and café. All bread and pasties are made daily in the village. The nomination said: "If sound ethics are regarded as part and parcel of producing good value delicious foods made with local ingredients, I think they deserve to win an award!"
Other Finalists: Deli Farm Charcuterie in Delabole, Porthgain Shellfish
Also on the Shortlist: The Chain Bridge Honey Farm in Berwick upon Tweed, Great Glen Game, The Handmade Bakery in Slaithwaite, Squisito Deli in Rugby, The Isle of Wight Cheese Company, Marshfield Ice Cream Company, Craster Kippers, Hambleton Bakery in Exton, Llaeth y Llan Village Dairy, Upton Smokery in Burford
BEST FOOD MARKET
Sutton Bonington Farmers' Market, Nottingham, a monthly farmers' market held on a University Campus selling fresh, local, seasonal, organic produce e.g. vegetables, fruit, bread, eggs, meat, honey and preserves. The nomination said, "Run by students, for students, but still welcoming members of the public."
Other Finalists: Edinburgh Farmers' Market, Melton Mowbray Farmers' Market
Also on the Shortlist: Tonbridge Farmers' Market, Riverside Market in Cardiff, Stoke Newington Organic Farmers' Market in London, Treacle Market in Macclesfield, Brockley Market in London
BBC FARMER OF THE YEAR
Guy Watson, Riverford Organic Farms, Buckfastleigh, Devon started growing organic veg in 1986 on his family farm and set up the vegbox scheme in 1993, delivering to 20 local friends and families. Now he's a pioneer in box schemes and farming champion, working with many local growers. One nomination said, "…consistently delivers on his commitment and principles to do the right thing…" 
Other Finalists: Henry Edmonds (Cholderton Estate), Tom Rawson (Thornhill Hall Farm, Dewsbury)
Also on the Shortlist: Richard Smith (Daylesford Farm, Gloucestershire), Duncan Farrington (Bottom Farm, Hargrave, Northamptonshire)
BEST LOCAL FOOD RETAILER
Eurospar, Dolgellau, north Wales, an independently-run supermarket with an emphasis on sourcing top quality produce. The nomination said, "produce from over 50 local producers that includes bakery, dairy, meat and seasonal vegetables."
Other Finalists: Cross Lanes Organic Farm Shop in Barnard Castle, The Real Food Store in Exeter
Also on the Shortlist: Earthy in Edinburgh, Infinity Foods in Brighton, Our Cow Molly in Sheffield, Fodder in Harrogate, The Cornish Food Box Company in Truro, Ultracomida in Aberystwyth, Beeches of Walkley in Sheffield 
BEST STREETFOOD OR TAKEAWAY
Moroccan Soup Stand, Golborne Road, London, freshly cooked, affordable soups and traditional Moroccan street food, including tagines and sardine dishes. The nomination said, "Tasty, cheap and good fun to visit – I don't know a better street eating experience in London."
Other Finalists: Inder's Kitchen in Cambridge, The Pudding Stop in St Albans
Also on the Shortlist: Lobster Shack in North Berwick, Anna Mae's in London, The Bowler in London, White Horse Cafe in Thirsk, Hazraj in Kentish Town
DEREK COOPER AWARD
Mike Duckett. Former head of catering at the Royal Brompton hospital where every meal is cooked on the premises using fresh, local ingredients, and thirty per cent of the food is organic or locally sourced, with organic meats appearing on the menu at least once a week. Mike Duckett has been leading the way in improving the quality of public catering across the UK, and his work is followed by governments around Europe, The nomination said, "Mike's work connects many small producers around the UK by supplying those who care about food and nutrition standards, and those staff, families and ill people who need to eat the food in hospitals."
Other Finalists: Real Bread Campaign, Martha Payne
Also on the Shortlist: Can Cook, Chefs Adopt a School, The Kindling Trust, Let's Get Cooking, WWF Livewell, Rosemary Hignett
BEST PUBLIC CATERER (BEST DINNER LADY OR MAN)
Lyndsey Anderson - Excelsior Academy, Newcastle, Excelsior Academy is a community mixed school serving the Benwell and Scotswood area of Newcastle upon Tyne. The nomination said, "I am truly impressed with the philosophy and attention to detail of the food choices, menus and presentation of the food."
Other Finalists: Anni Cockell (Beach House Care Home in Brighton), Jane Harrison (Red Hen Nursery in Louth)
Also on the Shortlist: Dean Marriott (Ace of Clubs, London), Lorraine Hill (Bicester Community Hospital), Amanda Newton (National Trust, Brancaster), Elaine Harrison (Pingle School), Chris Marshall (Scalby School), Becky Groom (Skern Lodge, Bideford), Laura Beardsell-Moore and team (St Nicholas Hospice, Bury St Edmunds)
Food and Farming Awards Update
We've big news about the next BBC Food & Farming Awards!
Usually at this time of year we'd be asking you to send in your nominations in our annual search for the best of British food and drink.
This year, to reflect the continued rise in food and drink ideas across the UK, the growth of businesses and food projects in towns and cities in every region, we've  ambitions to make the BBC Food & Farming Awards even bigger.
So the next Awards will be held in May 2014 in Bristol, and we'll be starting the nominations process later this year.
In the next few months, through The Food Programme, our websites and other BBC output we'll start to outline in more detail the plans we're developing for the Awards and other events next May in Bristol, how this year's nominations process will run and also explaining how you can get involved. We think it will be worth the wait. Read Sheila's full blog post on the changes here
Broadcasts

Why the Food & Farming Awards matter - Dan Saladino