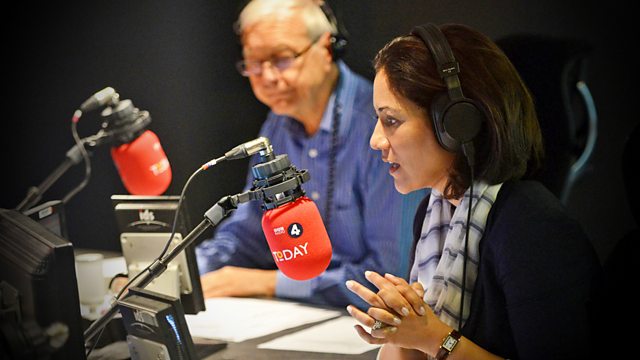 28/11/2012
Morning news and current affairs, with James Naughtie and Justin Webb, featuring:
0810
Police say the late MP Sir Cyril Smith was a sex abuser of boys in the late 1960s. Vera Baird QC, who was solicitor general in the last Labour government, has just been elected as police and crime commissioner for Northumbria, and Alan Collins, from the law firm Pannone which represents men who say they were abused by Cyril Smith, examine the implications that this will have for historic cases.
0817
The prime minister will receive a copy of the Leveson report today. The BBC's political editor Nick Robinson outlines why the politics will be difficult when it is published tomorrow.
0820
Aviation enthusiasts looking for 36 Spitfires which they believe to have been buried at an airfield in Burma in 1945 believed they have located them. David Cundall, a Lincolnshire farmer, has been on the quest for these planes for 16 years, describes the search.
0834
The government is moving towards the minimum pricing of alcohol in England. A public consultation begins today, but ministers appear committed to the policy. Home Office minister Damien Green explains that the real argument is over the price - should it be 40p or 50p per unit?
0838
Today new rules are announced to limit the impact of so called "chuggers", or street fundraisers, on England's high streets. Sally de la Bedoyere, chief executive of the Public Fundraising Regulatory Association, and Marjorie Wallace, chief executive of the mental health charity Sane, discuss the impact of the new legislation.
Last on
So you think you know the Today programme?