Main content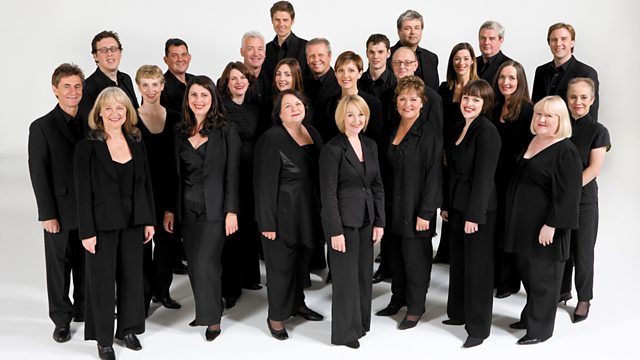 Lassus, F de Lassus, Costeley, de la Hele, Guerrero, Maillard, Palestrina, Peter Phillips
From St Paul's Church, Knightsbridge, the BBC Singers in music honouring St Cecilia: Lassus, F de Lassus, Costeley, de la Hele, Guerrero, Maillard, Palestrina and Peter Phillips.
Live from St Paul's Church, Knightsbridge
Presented by Catherine Bott
A mass and motets in honour of St Cecilia, patron saint of musicians, performed by the BBC Singers and Peter Phillips
Orlande de Lassus: Musica Dei donum optimi; Cantantibus organis
Ferdinand de Lassus: Caecilia virgo
Guillaume de Costeley: Allon, gays bergeres; Mignonne, allons voir
Orlande de Lassus: Domine Jesu Christe qui cognoscis
George de la Hèle: Nonne Deo subiecta evit anima mea
Francisco Guerrero: Dum aurora finem daret
Jean Maillard: Domine Jesu Christe, Pastor bone
G P Palestrina: Dum aurora finem daret
Peter Philips: Cecilia virgo; Cantantibus organis
G P da Palestrina:
Motet: Cantantibus organis
Palestrina and others: Missa cantantibus organis
Pierre de Manchicourt: Cantantibus organis
Luca Marenzio: Cantantibus organis
St Cecilia, patroness of musicians and church music, was a Roman noblewoman, martyred for her Christian faith, whose feast day falls on November 22. In this BBC Singers concert, live from St Paul's Church, Knightsbridge, Peter Phillips conducts 16th and 17th century music celebrating St Cecilia and her honoured place in music. The programme includes motets for her feast day, a mass in her honour composed by Palestrina and six of his Roman contemporaries, and some of the winning entries from the famous St Cecilia international motet-writing competition set up by Guillaume de Costeley in France in the 1570s.
More episodes
Previous
You are at the first episode