Main content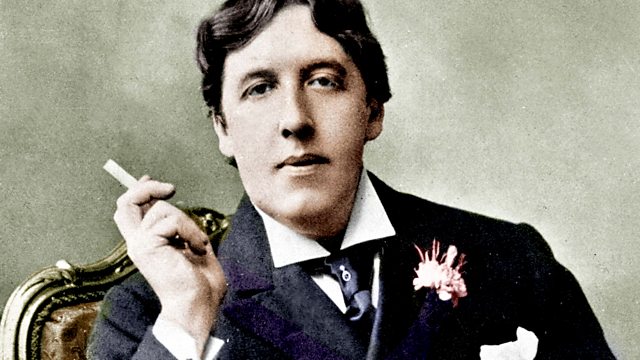 Wilde's West Coast Collection
Oscar Wilde expert Thomas Wright examines a collection of books auctioned off from Wilde's library in 1895, which ended up on the West Coast of America.
Oscar Wilde expert Thomas Wright spent several years examining the books that were auctioned off for next to nothing from Wilde's personal library after his dramatic fall from grace at the end of the 19th Century following his arrest for gross indecency.
In various private and public collections in the UK he discovered books with interesting inscriptions and annotations - and he tried to construct a sort of "bookshelf biography" which told the story of Wilde's life and literary career through the books he read. The marginalia revealed a lot about Wilde's influences, his tastes and his relationships. But these books represented only a fraction of those sold off in 1895. Some ended up in far flung corners of the world and in this Sunday Feature, Thomas Wright goes in search of Wilde's West Coast Collection.
Tom begins his journey with Oscar Wilde fans in a gay bar in Los Angeles before taking in the delights of Venice Beach and travelling to the William Andrews Clark Memorial Library where he discovers a collection of books which reveal some less familiar aspects of Wilde's life, art and character.
The books, housed in a giant vault to help protect the Oscar Wilde markings and marginalia, include a compilation of musical hall songs called Dans La Rue by Aristide Bruant - the legendary singer-songwriter who had met Wilde during his trip to Paris in 1891.
There's Wilde's copy of Lord Ronald Gower's A Pocket Guide to the Public and Private Galleries of Holland and Belgium which reveals much about his passion for art, and some of his artistic tastes. The notes in it attest to Wilde's keen interest in painters such as Velasquez and Rembrandt.
Thomas analyses some of Wilde's collection of the classics, finds a copy of The Picture of Dorian Gray inscribed to Lord Alfred Douglas and discovers new material about his Irish nationalism and his links to Gladstone, Asquith and the Liberal Party. He even finds a book that belonged to Wilde's wife, Constance.
"The most fascinating book I found in LA was Wilde's copy of the "Eighty Club" pamphlet. Wilde's interest in party-politics shows us an unfamiliar facet of his life - he was a man who famously "lived more lives than one", and his party-political life deserves to be appreciated along with all the others," says Thomas Wright. "The book proved that Wilde was an active member of a Liberal Party think-tank; and that he socialised with the prominent members of the party," he adds.
Among those he meets during his journey are fellow Oscar Wilde expert Tracey Connell and C Robert Holloway - award-winning author of a novel in which he corresponds with the ghost of Oscar Wilde. And to help analyse Wilde's West Coast Collection, Thomas meets up with Oscar Wilde's grandson - author, journalist and editor of Wilde's letters, Merlin Holland.
Wilde's West Coast Collection is produced by Ashley Byrne and is a Made in Manchester Production for BBC Radio 3.
First broadcast in November 2012.