Main content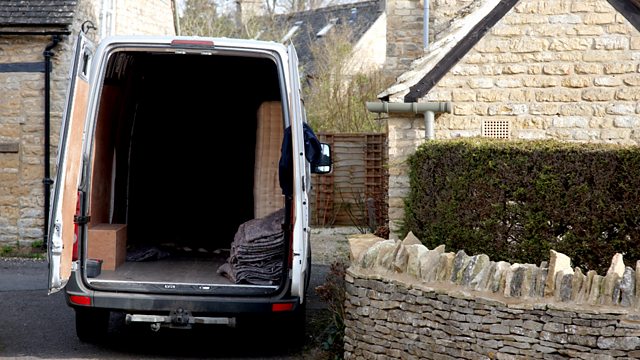 Belongings
A portrait of three people who over six months make some painful decisions about their posessions as they move house and start again somewhere smaller.
Decisions about what possessions to keep and what to throw away can be agonising, raising fundamental questions about their true value. In Belongings we follow three people over six months as they make some painful decisions, move house and start again somewhere smaller. The outcomes are often unexpected.
Mike and Sue need to find a bungalow so Mike, who recently had a stroke, doesn't have to cope with stairs. The belongings he desperately wants to keep, although perhaps now unnecessary, symbolise both his past fitness and his potential future happiness.
Nina is moving to a retirement flat and prides herself on a life free of attachment to material things, but over the years she has amassed a fascinating collection of possessions that hold powerful memories for her.
Patricia was a successful soprano, and now in her 80s has many boxes full of treasures from her career. She finds it hard to throw things away, they are as she says: "my life".
For many people possessions are just "stuff". The stories of Pat, Mike and Nina are interspersed with those for whom the disposal and moving of belongings is how they make their living. We hear the detached comments of auctioneers, removal men and estate agents. The intention of Belongings is to make the listener lose themselves in the lives of the downsizers, but also to make them think "what do I value most?".