Main content
Last on
John Wheatley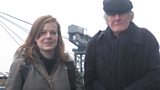 A family story encouraged a Making History listener to pen a fictional account of the life and times of the Glaswegian socialist John Wheatley, but who was this man and what was his role in the movement that's become known as Red Clydeside? Helen Castor joins the Scottish historian Ian Wood in Glasgow to hear about the man who never forgot the terrible social conditions of his childhood and whose parliamentary legislation in the first Labour government of 1924 paved the way for the building of council houses throughout the UK in the next fifty years.
Ian Wood's book on Wheatley appeared in the "Lives of the Left" series which was published back in 1990.
Decoy Defences of WW2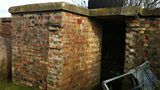 In Norfolk Making History listener Andrew Fakes has come across the remains of a wartime defence installation known as a Starfish site. Its survival is unusual as it was part of a nationwide system of decoys that were built to be bombed, therefore luring the Luftwaffe away from more important civilian and military sites.
Search for Decoy sites on the Heritage Gateway
Consult the Defence of Britain archive 
Threat of Invasion
Making History listener Cherryl Vines in Worcester has written a book loosely based on her mother's wartime experiences. Called "Pamela's War" the memories include the traumatic moment in 1939 when war was declared. The family story has it that Cherryl's grandfather, who had fought on the Somme, made it clear that he would kill his wife and child if the Nazi's invaded. Mark Connelly and Stephen Cullen discuss people's responses to the threat of invasion and the difficulty that historians have in researching this.
Making Historians
In this week's "Making Historians" Professor Vanessa Toulmin, Director of the National Fairground Archive at the University of Sheffield, talks about the moment when she realised that her future lay in her families past. Today she is the preeminent historian of Britain's travelling entertainers. National Fairground Archive: http://www.nfa.dept.shef.ac.uk/
Broadcast