Main content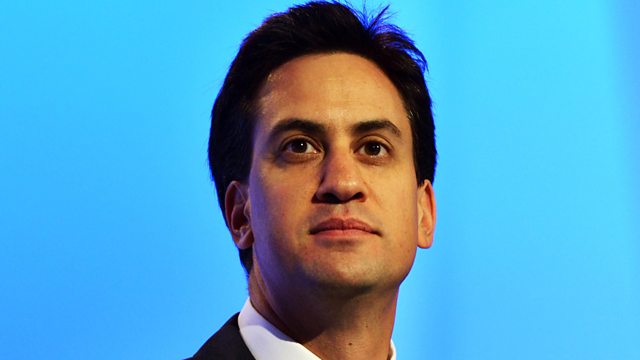 What Does Ed Miliband Really Think?
Ed Miliband and his chief adviser Stewart Wood talk to Steve Richards of the Independent about the Labour leader's political ideas and his plans for change.
Steve Richards, political columnist on "The Independent", presents the story of Ed Miliband's journey of ideas since he became the Labour leader two years ago.
The programme includes in-depth conversations with Ed Miliband himself, and his chief adviser and long-standing friend, Lord Wood, as well as the views of critics. It explores ideas which the Labour leader has embraced, from "predatory capitalism" to "predistribution" and "One Nation Labour".
The Miliband camp points to parallels with Margaret Thatcher's time as Leader of the Opposition. Like her, say his supporters, he is setting out a radical vision of a different economy during a time of financial crisis with an unstable government. But how valid is the comparison?
Ed Miliband tells Steve Richards: "She was a conviction politician and conviction really matters. In the 1970s, it was a similar moment, in the sense that an old order was crumbling and it wasn't 100 per cent clear what was going to replace it. The challenge of the future is who can rise to the scale of challenge that the country faces and who can create a project for how this country's going to be run that is genuinely going to make our economy work, not just for a few people but much more widely."
But critics argue that Miliband's ideas are too abstract or too limited. They say he may be big on vision, but seriously lacking in policy detail.
Producer: Leala Padmanabhan.
Last on
Clips

Broadcast