Main content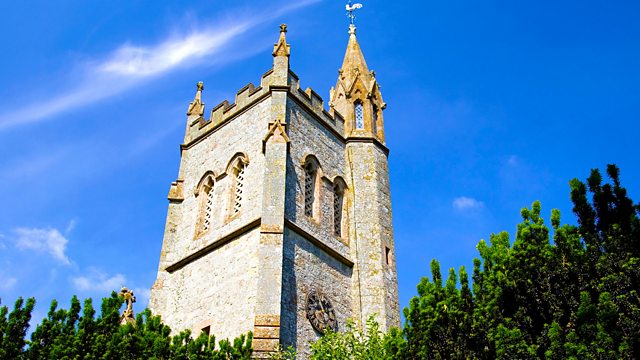 18/11/2012
I Am Not the Same: Prisons Sunday service led by prison chaplain the Rev Sharon Grenham-Toze from Bedford with the RSCM Millennium Youth Choir.
I am not the same. Prisons Sunday is marked with a service from the church of St Peter de Merton and St Cuthbert in Bedford. The church stands in the shadow of Bedford Prison and the congregation is building links with the prison chaplaincy there. The RSCM Millennium Youth Choir leads the music and the service is led by the Co-ordinating Chaplain of Bedford Prison, the Revd Sharon Grenham-Toze.
Director of Music: David Ogden
Organist: Daniel Moult
Producer: Clair Jaquiss.
Last on
Bedford - Prisons week
SUNDAY WORSHIP FOR PRISONS WEEK<?xml:namespace prefix = o ns = "urn:schemas-microsoft-com:office:office" />
 'I AM NOT THE SAME'
Theme of Prisons Week 'Taking the Path of Life' 
Psalm 16: 11
Please note:

This script cannot exactly reflect the transmission, as it was prepared before the service was broadcast. It may include editorial notes prepared by the producer, and minor spelling and other errors that were corrected before the radio broadcast.

It may contain gaps to be filled in at the time so that prayers may reflect the needs of the world, and changes may also be made at the last minute for timing reasons, or to reflect current events.
Radio 4 Opening Announcement:
BBC Radio 4. [TIME CHECK] and time for Sunday Worship, which this morning comes from Bedford at the start of Prisons Week.  It's led by the Co-ordinating chaplain of Bedford Prison, the Reverend Sharon Grenham-Toze.
Opening sentences: 
SHARON
I bless the LORD who gives me counsel;
in the night also my heart instructs me.
MIKE
I keep the LORD always before me; because he is at my right hand, I shall not be moved.
JENNIE
You make known to me the path of life; you will fill me with joy in your presence, with eternal pleasures at your right hand.   
Choir:  God has chosen me Bernadette Farrell vv 1,3 
SHARON
Good morning, and welcome to the Church of St Peter de Merton and St Cuthbert in Bedford. For well over one thousand years Christians have worshipped on this site.
Today St Peter's stands on a busy corner of this bustling market town. Just outside the church, looking down the High Street, there's a statue of one of Bedford's most famous residents: the nonconformist minister, and author of 'The Pilgrim's Progress' -  John Bunyan. This solid depiction of the man cuts a commanding figure, and stands in stark contrast to the leaves now falling from the surrounding trees, something lasting amid the ephemeral changes of the seasons.
Bunyan was himself a bold and uncompromising preacher and was imprisoned in Bedford Gaol in 1660, for 12 years, and then again in 1675.  It's believed he conceived and wrote the Pilgrim's Progress during his time in custody. The words of our first hymn are taken from that great work. We sing "He who would valiant be."
Hymn   He who would valiant be


SHARON
'I'll labour night and day to be a pilgrim.'  A stirring avowal of determination, whatever the opposition.  Someone who lived up to those sentiments in no small measure was one of Bedford's other famous residents: the great prison reformer, John Howard.   He was appointed High Sheriff of Bedfordshire in 1773 and was so shocked at the conditions in the old Bedford County gaol that he resolved to embark upon a campaign of prison reform. Speaking as the Chaplain of the present Bedford Prison, I can confirm that conditions have improved considerably since then!
Bedford Prison actually stands within the parish of St Peter's, and today keeps around 500 men in custody.
Our service this morning marks the beginning of the annual Prisons Week, when churches of many traditions are encouraged to consider, and pray for, all those connected with our country's prisons. Fittingly enough, the theme for this year's Prisons Week is 'Taking the path of
life' – an image that recalls Bunyan's ideas of pilgrimage if ever there was one.
For all of us, the first step to walking that path to life has to be an acknowledgement of how far we have each fallen short of the glory of God.  Sidney, an Official Prison Visitor here in Bedford, takes us into a time of confession, with words from Psalm 51:
SIDNEY               Reading  
Create in me a clean heart, O God, and renew a right spirit within me. Cast me not away from your presence, and take not your Holy Spirit from me. Restore to me the joy of your salvation, and uphold me with a willing spirit.
Choir:   Requests   by Bedford composer Paul Edwards, with words by Dolben
SHARON            Prayer of Confession/Absolution 
We confess to You, Lord, what we are.
We are not the people
We like others to think we are.
We are afraid to admit even to ourselves
What lies in the depths of our souls.
But we do not want to hide our true selves from You.
We believe that You know us as we are,
And yet You love us.
Help us not to shrink from self-knowledge;
Teach us to respect ourselves and others for Your sake.
Give us the courage
To put our trust in Your guiding power.
Raise us up from the paralysis of guilt
And lead us to the freedom and energy of people,
Whose faults are forgiven.
For those who through long habit of sinfulness
Find forgiveness hard to accept,
We ask you to break their bondage and set them free.
We ask this through Christ our Lord.
ALL:        May God forgive us.
                  May Christ renew us.
                  May the Holy Spirit enable us to grow in love.  
                   Amen. 
Hymn         Amazing Grace
SHARON
John Howard's reforming campaign eventually became what we know today as the Howard League. Over its 140-year history, the Howard League has had a significant impact on the development of criminal justice policy and also successfully campaigned for the introduction of the victims' compensation scheme. Underpinning the League's aims is the belief that, treated with humanity and decency, someone in custody can be given the chance to lead a different life. This is also central to the Prison Service's statement that it exists to protect the public, treat offenders with humanity, and help them to lead useful, law-abiding lives.
Most people taking part in this service are here in the church, but the voices of prisoners you hear were recorded recently in the prison chapel  – and for reasons of security their names have been changed.
Lee is a prisoner who attends prison chapel services. In July this year I was delighted to baptize him in front of his fellow prisoners. Lee has set out on a new pathway, a hopeful pilgrim with his new-found faith. 
Insert 1       LEE TALK
In:               "Cos I had no brothers and sisters…."
Out:             "… so,  Keep the faith."
Dur:            1'30
Hymn    Brother Sister let me serve you
SHARON 
It's a great pleasure to have the Royal School of Church Music millennium Youth choir leading the singing here this morning.  Jack is one of its members.  His life so far has been along a very different route to those in the nearby prison.  He comes from the Bedford area and has described himself as 'privileged' in comparison to many.  So when he visited the prison for the first time, this was going to be a very new experience. 
JACK 
Everything seemed grey when I went in.  No green space I could see.  So this was Bedford Prison with almost 500 men living there. This life, I realised, is a world away from anything I've ever known.
Some of the prisoners I met described how isolated they felt - one of them hadn't been in contact with family or friends for almost a year. And one phrase stood out for me.  One prisoner told me the best way to get on was to be 'friendly to everyone and friends to no-one.'  I thought, that must be so hard to carry on day by day. Others described prison as being just like they were plucked from life and put in a box - as if everything had been put on hold.  But they also came across as really positive – this difficult time in their lives was also a chance to stop, and think, and reflect on the road that had led them here. With the help of some of the staff in the prison, they felt they were now going in a different direction.
I met up with some of the prison officers and I was surprised to find out the whole range of roles they play, and how much they really do want to help. It's very different to the image of the stern guard in a uniform that you usually see in films or television dramas. 
I was shocked to hear that about 70% of prisoners have some sort of mental health problem, and that the average level of educational ability is about 11 years old. This was for me a very dark side of prison life and made me wonder about the sad and desperate situations that some of these men must have been in, in order to end up in prison.
JACK
But there was some hope too! There were several places around the prison which seemed to act as almost sanctuaries away from the bravado of the main wings – places like the Chapel, the library and the classrooms. Many of the prisoners I met talked about how the chaplaincy provided a haven - away from the harsh and grim reality of prison life – a safe space to think, to find support and advice, and maybe start to do things differently.
So my visit presented me with a mix of sadness and hope, and a world that I'd never really thought about before. I know I'll never forget it…. 
SHARON
Jack joins the choir now to sing Phillip Wilby's 'Vox Christi' based on the Great Commission at the end of Matthew's gospel – the commission to baptise all people in the name of the Father and the Son and the Holy Spirit.  
Anthem                Vox Christi
SHARON
Much like the obstacles that met Bunyan's Pilgrim along the way, life presents us with opportunities to choose which way to go, even though in all of life God is with us. Of course, those serving prison sentences are being held accountable for their actions and choices, but in fact, the Christian faith expects each of us to examine our behaviour, as St Paul makes clear in our next reading.  The Priest-in-Charge of St Peter's, the Revd Mike Fudger, reads from the letter to the Galatians, chapter 5, verses 13-24.
MIKE         Reading 
For you were called to freedom, brothers and sisters; only do not use your freedom as an opportunity for self-indulgence, but through love become slaves to one another. For the whole law is summed up in a single commandment, "You shall love your neighbour as yourself." If, however, you bite and devour one another, take care that you are not consumed by one another. Live by the Spirit, I say, and do not gratify the desires of the flesh. For what the flesh desires is opposed to the Spirit, and what the Spirit desires is opposed to the flesh; for these are opposed to each other, to prevent you from doing what you want. But if you are led by the Spirit, you are not subject to the law. Now the works of the flesh are obvious: fornication, impurity, licentiousness, idolatry, sorcery, enmities, strife, jealousy, anger, quarrels, dissensions, factions, envy, drunkenness, carousing, and things like these.
I am warning you, as I warned you before: those who do such things will not inherit the kingdom of God. By contrast, the fruit of the Spirit is love, joy, peace, patience, kindness, generosity, faithfulness, gentleness, and self-control. There is no law against such things. And those who belong to Christ Jesus have crucified the flesh with its passions and desires. If we live by the Spirit, let us also be guided by the Spirit. 
This is the word of the Lord   
Thanks be to God
SHARON 
My conversations with prisoners make it painfully obvious how easy it is to get into a downward spiral of behaviour. Many of the men I meet on a daily basis have problems with addiction and substance abuse, mental health issues, and a history of violence and poor impulse control. Often feeling alienated and angry from an early age, they've grown up learning to 'bite and devour one another' as St Paul puts it.
For some, coming into prison is just part of the ups and downs of life, and changing their attitude is enormously challenging. But for a great many more, time in custody comes as a shock. It's often the lowest point in someone's life, when they have to come to terms with the damage they've caused to their victim, to their family, to society, and, of course, to themselves.  
The fallout from loss of freedom often hits in the most unexpected ways as a prisoner must contend with having little control over his (or her) day-to-day life, lack of contact with loved ones and the issues with housing and employment that a criminal record inevitably brings.
But as St Paul reminds us, those of us who retain our freedom do well to reflect on how, and how well, we use that privilege. We may not realise just how much we take for granted – falling into self-indulgence as Paul describes it. And whilst the majority of us may never fall foul of the law of the land, how many times do we break the law of God to love our neighbour as ourselves?
God sets for us the highest standard – to put aside the easy, almost natural ways we've developed, which lead to division and resentment, selfishness and scorn, and instead pray for the strength and humility to live life by the Spirit. Living by the Spirit produces the recognisable fruit that he describes – love, joy, peace, humility and so on. Living by the Spirit may also bring us to recognise that each of us is still travelling the difficult road that leads to the kingdom. Some of us may be further along than others, but we're all still in transit just the same. Maybe this can help us to see the residents of our local HM prison in a slightly different light.
That's not to ignore the consequences of crime, of course, and the victims, nor to remove the need for each of us to take a long hard look at our lives and relationships. God has made it clear that mercy is shot through with justice, and we're all accountable for our actions. 'I am warning you' says St Paul, 'as I have warned you before, those who do such things will not inherit the kingdom of God.'
But, thankfully, God's mercy is everlasting, and given speedily to those who have the humility to ask for it.
Sean and Miliong are two regulars in the prison chapel. They've both been through a time of real soul-searching during their time in custody, and have come to see the impact their actions have had on others and on their own lives. Through their strengthening faith and their encounter with God's justice and mercy, they realise that life from now on has to be very different, and there's a lot of rebuilding to do. They've made a start amongst their fellow prisoners by forming a choir which sings for all the chapel services – it's also grown into a peer support group, with lively discussions about faith and life a regular feature.
Sean wrote this next song, which they recorded together in the prison chapel, to express how much the two of them had changed, and I know it's a sentiment that others in their group would echo. It's called 'I am not the same.'
INSERT 2  – PRISONER'S SONG
I am not the same
2'35"
SHARON
I am not the same, by Sean and Miliong, who also offer this short prayer of praise and thanksgiving.
INSERT 3 - PRISONERS' PRAYER
In:               "Lord Jesus, we thank …
Out:            "…eternal life through you.  Amen"
Dur:            44"
SHARON
Our prayers continue, led by Dave, a former prisoner at Bedford Prison, now working as a ……………….. in …………………….. and Jennie, a regular worshipper at St Peter's, who's also a member of the Independent Monitoring Board, which keeps an eye on conditions and practices within the jail.
JENNIE     Prayers
Lord, you offer freedom to all people. We pray for those in prison. Break the bonds of fear and isolation that exist. Support with your love prisoners and their families and friends, prison staff and all who care. Heal those who have been wounded by the actions of others, especially the victims of crime.
Lord in your mercy  
hear our prayer
DAVE
Dear God our Father, we pray for people who struggle, or are in pain and suffering, people who need you most and need a helping hand. We pray for people in prisons across the world, that they learn from their mistakes in the crimes they have committed, and believe that they can be a better person. We pray for everyone who has no one, no family, no friends, for they may be finding it hard to cope and we pray that you will guide them in a direction where they will feel loved and comforted.   We pray for families who have been torn apart through imprisonment and need your love and guidance to survive.
We pray for everyone, that we may all have a brighter future and love everyone as we want to be loved.
Lord, in your mercy 
hear our prayer.
JENNIE
Righteous God, we pray for all who administer justice and those who oversee the running of prisons. Grant them wisdom, integrity, compassion and energy. We pray Lord that you will be present and active in all situations of judgement and sentencing, in all decisions for release, and in the day to day relationships between prisoners and those who work with them.
Lord in your mercy  
hear our prayer
DAVE
You never give up on us  Lord, despite our sin and loss of innocence.. We pray for those who are rebuilding their lives, for those who are struggling to forgive, and those who support them. Help us as we all walk the pathway to life.
Lord in your mercy 
hear our prayer
And now we pray as Jesus taught us
Our Father, who art in heaven,
Hallowed be thy name.
Thy kingdom come, thy will be done
On earth as it is in heaven.
Give us this day our daily bread,
And forgive us our trespasses
As we forgive those who trespass against us.
And lead us not into temptation,
But deliver us from evil.
For thine is the kingdom
The power and the glory
For ever and ever.
Amen. 
SHARON 
As each of us walks the pilgrim path, we have the reassurance that Jesus is right beside us as our companion and guide. The path may be narrow, and the road steep, but he lights our way, and holds us when we stumble. And so Lord Jesus Christ, the way by which we travel, show us yourself, the truth that we must walk in. And be in us the life that lifts us up to God, our journey's end. Amen.
And now we sing our final hymn  'Go forth for God'
Hymn    Go forth for God (Woodlands)
SHARON            Blessing
God be your comfort, your strength,
God be your hope and support,
God be your light and your way;
And the Blessing of God Almighty
Creator, Redeemer and Giver of Life
Remain with you now and for ever.  Amen.
Organ Voluntary:  Nun danket alle Gott, Karg-Elert
Closing announcement from Continuity:
Sunday Worship came live from the Church of St Peter de Merton and St Cuthbert.  The service was led by the Reverend Sharon Grenham-Toze, Co-ordinating chaplain of Bedford Prison.  The Royal School of Church Music Millennium Youth choir was directed by David Ogden and the organist was Daniel Moult.  The producer was Clair Jaquiss.
Next week, Sunday Worship comes from St Salvator's Chapel in the University of St Andrews.
Broadcast