Main content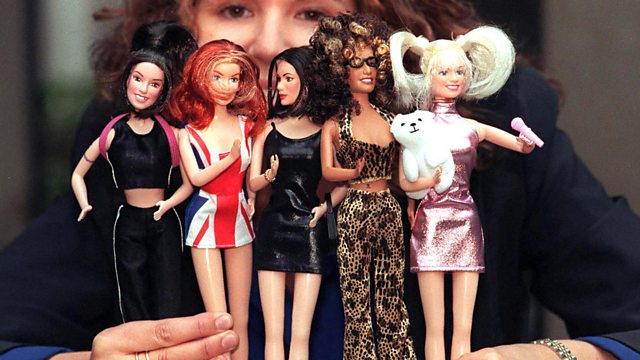 Wannabe - Girl Power and Feminism
Stuart Maconie on the history of modern Britain in 50 records. For many young women the rise of the Spice Girls and 'girl power' was their first introduction to sexual politics.
For most people the expression of 'girl power' is synonymous with The Spice Girls, but its origins pre-date any mainstream appearance. It's believed that 'Grrrl Power' was first floated in the early '90s in a fanzine by punk band Bikini Kill: part of the hardcore female punk/grunge movement Riot Grrrl and worlds away from the slick, homogenised pop of The Spice Girls. The pop punk band Shampoo later released a single and album called Girl Power the year before the Spice Girls had their huge hit (and which also featured such feminist tracts as Don't Call Me Babe and Bare Knuckle Girl). But as this was around the peak of the New Laddism, it's no surprise that a counter ideology sprung up celebrating and empowering the feminine. Also at this time there was a marked increase in iconic and indelible fictional female characters that kicked ass and weren't to be trifled with (but still looked like shampoo models): Buffy The Vampire Slayer, Lara Croft from the Tomb Raider game, Xena the Warrior Princess, Nikita or Tank Girl.
But for some girls and young women The Spice Girls were the first time they'd even thought about gender identity and politics. Each Spice Girl each supposedly represented a role model to be admired, celebrated and possibly emulated. From a marketing perspective, no doubt, it was hoped that young girls could identify with one of the girls, whether Posh, Scary, Sporty, Baby or Ginger. Whilst it's easy to mock the broad brush-strokes at work here, maybe a sporty girl (maybe a little boyish) or a ginger girl (perhaps mercilessly taunted) could feel a little better about themselves. And was there a more indelible image of late '90s Britain than Geri's Union Jack dress?
Share your comments and stories
Your contributions will play a key part in this episode, take a look at the questions below and send us your thoughts:
Was 'Girl Power' a useful form of feminism?  
Did you think the Spice Girls were good role models for girls?
What does feminism mean to you? Has it been important to your life?
Were you involved in the campaign for women's rights in the '60s and '70s?