Main content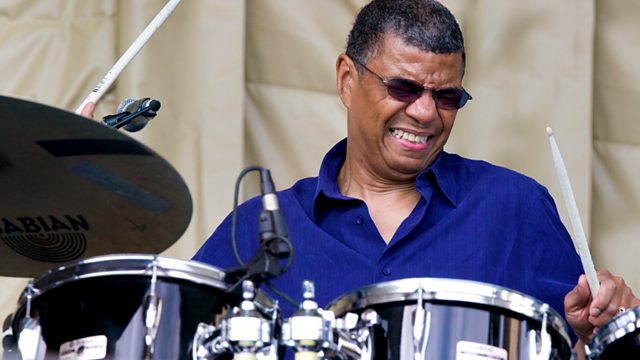 Jack DeJohnette at the 2012 London Jazz Festival
Jez Nelson presents celebrated drummer Jack DeJohnette performing with his group at the 2012 London Jazz Festival, in a 70th birthday celebration concert.
Jez Nelson presents a legend of jazz drumming - Jack DeJohnette - recorded live with his group at the London Jazz Festival in a 70th birthday celebration concert.
Helping to carve the history of jazz for over fifty years, DeJohnette sits within the highest ranks of the establishment, having played with giants such as Miles Davis, Herbie Hancock, John Coltrane, Ornette Coleman and Keith Jarrett. A distinguished bandleader in his own right, DeJohnette's output remains abundant and in January he released his latest album Sound Travels, a recording that draws extensively on Afro-Latin rhythms. In this concert, the drummer is joined by reedsman Don Byron, guitarist Marvin Sewell, pianist George Colligan and bass player Jerome Harris.
Presenter: Jez Nelson
Producers: Peggy Sutton & Joby Waldman.
Music Played
Henri Texier Trio at the 2012 London Jazz Festival

Untitled

Line-up: Henri Texier (double bass), Sebastien Texier (reeds), Louis Moutin (drums)

Jez Talks To Jack DeJohnette About His Career

The Jack DeJohnette Group, recorded at the Queen Elizabeth Hall, London on 16 November 2012

Untitled

Line-up: Jack DeJohnette (drums), Don Byron (saxophone, clarinet), Marvin Sewell (electric guitar), George Colligan (keyboards & piano), Jerome Harris (bass)