Main content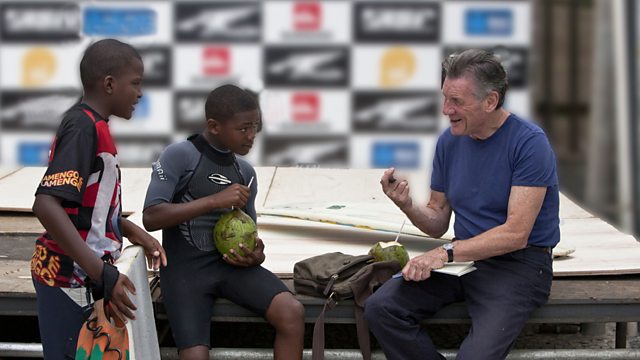 The Road to Rio
Michael Palin explores what makes Brazil tick. He journeys to Minas Gerais, the source of Brazil's great mineral wealth, and checks into an infamous 'love hotel'.
In the third part of his Brazilian odyssey, Michael Palin visits the source of Brazil's great mineral wealth and then travels to one of the world's greatest cities to see how this new-found wealth is being spent, changing the lives of millions of its inhabitants.
Michael starts this leg of the journey in the mineral-rich state of Minas Gerais - General Mines. He visits an old gold mine once owned by the British, before going to see a vast opencast iron ore mine that is such a feature of the Minas landscape. Iron ore deposits are fuelling Brazil's economic miracle but there is always an environmental price to pay, and Michael meets some ordinary Brazilians who are dedicated to preserving the natural beauty of the state.
After Minas, it's down to Rio de Janeiro, host to the 2016 Olympics and 2014 World Cup. Rio has always had a reputation as a party town but also has suffered from terrible violence, with heavily armed drug gangs controlling the notorious shanty towns, or favelas, that make up a large part of the city. Now, the authorities have decided to spend some of Brazil's new money on healing the rift between the favelas and the rest of the city. The policy of 'pacification' aims to drive the drug gangs out and fund new infrastructure and social programmes to make the favelas truly part of the city. Michael visits what used to be some of the most violent places on earth to see how lives have been transformed by pacification.
Michael's time in Rio isn't all about what is happening in the favelas. He also finds time to visit some of Rio's best-known locations, learns how to celebrate a goal like a Brazilian radio commentator, and books a room in one of the city's infamous 'love hotels'!
Credits
| Role | Contributor |
| --- | --- |
| Presenter | Michael Palin |
| Series Producer | John-Paul Davidson |
| Executive Producer | Steve Abbott |
| Executive Producer | Charlotte Moore |
| Director | Francis Hanly |