Main content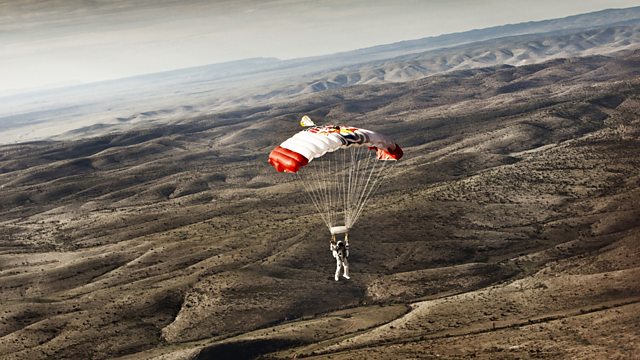 Space Dive
Documentary telling the behind-the-scenes story of Felix Baumgartner's historic, record-breaking 128,100ft freefall from the edge of space to Earth on 15 October 2012.
Base jumper Felix Baumgartner embarks on an historic journey to the edge of space. His mission is to complete the highest and fastest free-fall ever, becoming the first person to skydive through the sound barrier. But he can't do it alone. The man who has held the record for over 50 years, retired Colonel Joe Kittinger, will train Felix to overcome his fears and break the record he set as a test pilot taking one of mankind's first steps towards space.
In this video, Bang Goes the Theory's Dallas, Jem, and Yan discuss what the term means.

More about Felix's jump, including the facts & figures and more information about his kit.
Credits
| Role | Contributor |
| --- | --- |
| Producer | Colin Barr |
| Producer | Gary Hunter |