Main content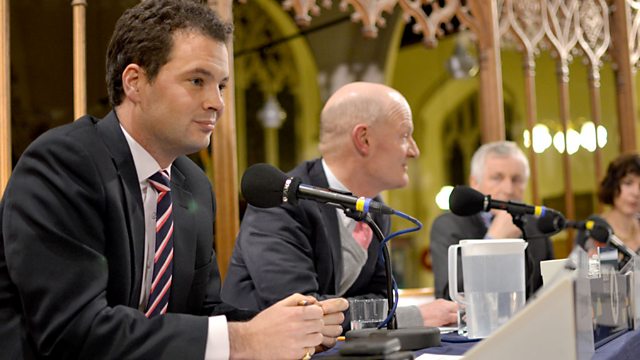 All Saints Church, Dulverton, Somerset
Jonathan Dimbleby presents political debate from Dulverton in Somerset. Guests include Baroness Shirley Williams, Hilary Benn MP, David Willetts MP and Alex Deane.
Jonathan Dimbleby presents the political discussion and debate programme from All Saint's Church in Dulverton Somerset. Guests include Baroness Shirley Williams, David Willetts MP the Minister for Universities and Science, Shadow Secretary of State for Communities and Local Government Hilary Benn MP and Alex Deane who's Head of Public Affairs for Public Relations company Weber Shandwick.
Last on
Chapters
How low does voting turn out have to go before being deemed irrelevant?

In relation to the election for police commssioners, where turn out was as low as 13%.

Duration: 10:50

Does Israel deserve a future?

Despite all the foreign aid given, Israel has failed to get on with it's neighbours.

Duration: 08:00

Shoud the content of Social Networking sites be controlled, and if so, how?

In relation to libellous tweets about Lord McAlpine.

Duration: 10:19

If you were the next Archbishop of Canterbury what would your priorities be?

Hopes and fears for the next appointed Archbishop of Canterbury.

Duration: 09:38

Is the amount of money invested in wind farms a cost-effective use of public funds?

Are wind farms really a viable energy source of the future?

Duration: 06:36

Broadcasts

Download: Political Thinking with Nick Robinson

Jonathan Dimbleby's Seven Surprising Moments from Any Questions?