Main content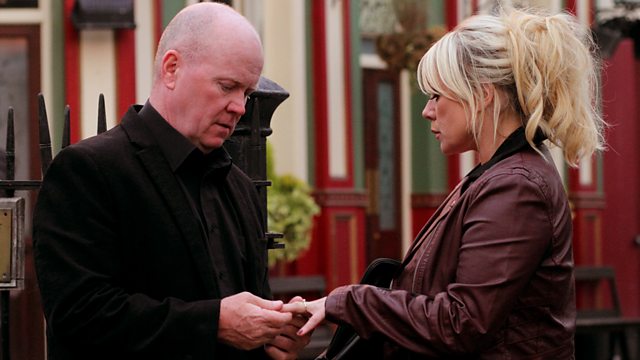 05/11/2012
Masood, AJ and Tamwar pull together to give Bonfire Night a bit of sparkle, but there is one final unexpected firework. Lucy persuades Christian not to give up on Syed.
Masood's worried, there's no money to pay the mortgage. AJ's bought fireworks and all he can offer Masood is his lucky coin. Masood looks for odd jobs before buying a scratch card. He asks Syed for money but, without Christian, Syed can't afford his own rent. Masood berates Syed about his failed marriage. Masood discards AJ's lucky coin and is tempted by an online poker site. AJ saves the day by selling his motorbike, raising enough money to pay the mortgage and more. AJ puts on a firework display in the Square complete with dancing girls. Masood finds AJ's coin and returns it to him. Happy, he apologises to AJ, Tamwar and Syed for being a nightmare. The Masood men are enjoying the fireworks when the music stops abruptly – Zainab's back.
Christian confides in Lucy about his split with Syed. He visits Yasmin and Syed, but can't help sniping at Syed. Syed asks Christian to come home claiming Yasmin misses him. Christian goes to stay at the Beale's.
Sharon and Jack return from a weekend away. Phil and Sharon spend time preparing for their meeting with Social Services. Jack reminds Phil they'll ask about Ben. Phil persuades Sharon to pretend to be engaged to him and gives her a ring. Jack's horrified when he sees the ring, now stuck on Sharon's finger.
Tommy's not sleeping and Kat's exhausted. Alfie tries a new approach; he and Kat settle down together in Tommy's room with a duvet, drinks and snacks and watch the fireworks. Alfie smiles when he realises Kat and Tommy have both fallen asleep.
At the gym, Lucy realises Alice has a crush on Ray. Ray celebrates in the Vic, the money for his youth boxing scheme 'Fighting Fit' has come though.
The B&B fridge is broken.
Music Played
Timings (where shown) are from the start of the programme in hours and minutes
Credits
| Role | Contributor |
| --- | --- |
| Zainab Khan | Nina Wadia |
| Masood Ahmed | Nitin Ganatra |
| Tamwar Masood | Himesh Patel |
| AJ Ahmed | Phaldut Sharma |
| Syed Masood | Marc Elliott |
| Christian Clarke | John Partridge |
| Roxy Mitchell | Rita Simons |
| Phil Mitchell | Steve McFadden |
| Sharon Rickman | Letitia Dean |
| Jack Branning | Scott Maslen |
| Alice Branning | Jasmyn Banks |
| Lucy Beale | Hetti Bywater |
| Denise Fox | Diane Parish |
| Ray Dixon | Chucky Venn |
| Kim Fox | Tameka Empson |
| Kat Moon | Jessie Wallace |
| Mo Harris | Laila Morse |
| Alfie Moon | Shane Richie |
| Jean Slater | Gillian Wright |
| Michael Moon | Steve John Shepherd |
| Executive Producer | Lorraine Newman |
| Director | John Howlett |
| Writer | Peter Mattessi |