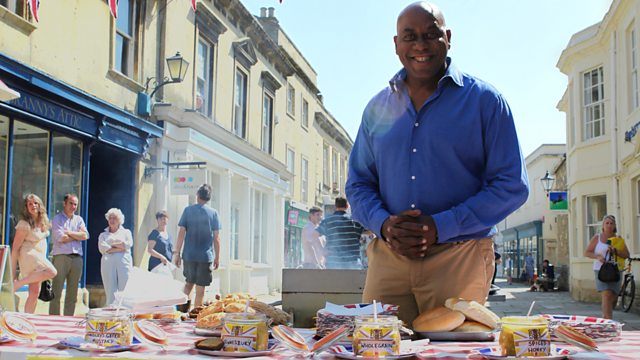 TV chef Ainsley Harriott comes over all hot and fiery as he leads the charge for long forgotten British mustards. He discovers why every kitchen should have its own cannonball as he makes up some Elizabethan Tewkesbury mustard. No one is safe as he descends on the Cotswolds, armed with his very own mustard, to persuade people to keep the tradition of British mustard alive.
Passionate cook Valentine Warner has been deer stalking since he was twenty years old and he cannot understand why we don't eat more of this plentiful, sustainable, free range meat. He goes stalking with a countryside ranger as well as finding out how a Lincolnshire culling initiative gets all its meat back into the food chain. He's delighted to track down a like-minded educational project which wants to democratise venison and make people realise it is not a food just for the elite. Finally, Valentine goes back to the classroom as a whole deer is taken into a Nottingham school for the children to skin, butcher,cook and eat.
Last on
Ainsley Harriott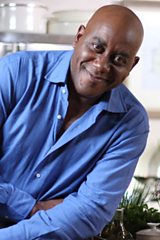 Ainsley Harriott is the charismatic, larger-than-life presenter of BBC Two's Ready Steady Cook, who has become known for his flamboyant style. Ainsley trained as a chef at 16, graduating to commis chef, but his TV career started away from the kitchen: once he finished his chefs' training, he toured Europe as part of a musical duo, The Calypso Twins. It was a turn that earned him several TV credits, a record release and a prominent position on London's comedy circuit. However, cooking remained Ainsley's first love, so he resumed his career in top hotels and gained experience in all aspects of the craft.
Discover more of Ainsley's recipes on BBC Food
Valentine Warner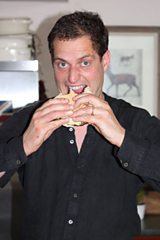 Valentine Warner trained as a portrait painter before putting down the brush to pick up the spoon. A passionate cook, he believes that a real understanding of ingredients, the producers involved and the natural history of ingredients contributes as much to the plate as the cooking itself. Valentine is a very keen outdoors man, when not in the kitchen, he will be out with a basket or, more probably, fishing.Valentine writes a regular column for
Countryfile
and
Delicious
magazines and has written for
The Times
,
The Independent
, and Olive.  In September 2008 Valentine presented his first hit series
What to Eat Now
, and has previously appeared on the Great British Food Revival.
Discover more recipes by Valentine Warner on BBC Food
Credits
| Role | Contributor |
| --- | --- |
| Presenter | Ainsley Harriott |
| Presenter | Valentine Warner |
| Executive Producer | Bridget Boseley |
| Series Producer | Toni Williamson |