Main content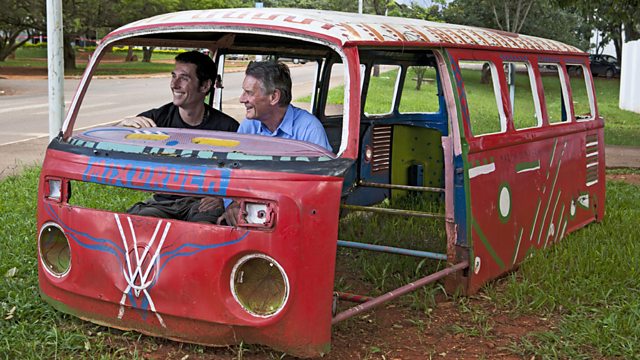 Into Amazonia
Series in which Michael Palin crosses Brazil to find out what makes it tick. He visits indigenous tribes, rubber tappers and Henry Ford's ill-fated Fordlandia.
Michael Palin travels from Brazil's northern border with Venezuela along the Rivers Branco, Negro, Amazon, Tapajos and Xingu, through the very heart of the Amazonia, before ending up at the capital Brasilia. He visits indigenous tribes like the Yanomami, and talks to their shaman and chief spokesperson Davi about the threats to their traditional way of life.
On the Rio Negro he encounters Elias, one of the last seringueiros, or rubber tappers, and watches the Amazon Philharmonic Orchestra rehearse in the magnificent Manaus Opera House. Travelling by river boat he heads up the Tapajos river to Fordlandia, to seek out what remains of Henry Ford's bold but ultimately unsuccessful attempt to build a rubber plantation the size of Wales in the middle of the rainforest.
In Belem at the mouth of the Amazon, he is dazzled by the exotic Amazonian foods that chef Thiago uses in his kitchen, and learns from music producer Priscilla why Amazonian women like her and her protege singer Gaby Amarantos are such powerful forces.
Travelling ever southwards to the upper reaches of the Xingu river, he is welcomed to the Wauja tribe, one of the most colourful of all the Brazilian indigenous peoples. Anthroplogist-in-residence Emi Ireland helps explain their rich and complex rituals as well as why the Wauja women would like to marry Michael. The threats to their land and way of life from dam building, deemed necessary for the increasing exploitation of Brazil's abundant natural resources, is discussed with Wauja shaman Itsautaku.
In Brasilia, he meets up with rock star and political activist Dinho Ouro Preto who thinks Brazil, despite all its social and environmental problems, is on the brink of fulfilling its destiny as a superpower.
Filming with the Wauja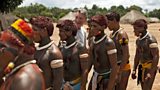 "As we filmed them, they filmed us. It felt like a good exchange." John Paul Davidson, Series Producer and Director on Brazil with Michael Palin, writes about their time filming - and being filmed by - the Wauja in the Upper Xingu.
Credits
| Role | Contributor |
| --- | --- |
| Presenter | Michael Palin |
| Series Producer | John-Paul Davidson |
| Executive Producer | Steve Abbott |
| Executive Producer | Charlotte Moore |
| Director | John-Paul Davidson |