Main content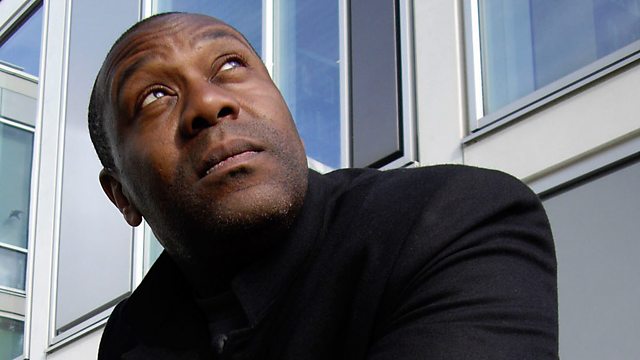 Miss Reenie Comes to Stay
Adam's surprise for his dad's birthday backfires, as his sister is a house guest from hell. Stars Lenny Henry. From November 2012.
Adam's surprise birthday present for his Dad backfires.
Adam has a surprise for his Dad's birthday - his sister Reenie! It backfires when Miss Reenie turns out to be the house guest from hell and plans to stay for 6 months.
Father and son comedy set in the finest old-school record shop in Birmingham. Starring Lenny Henry, Larrington Walker and some terrific tunes.
Rudy's Rare Records is a tiny down at heel old reggae record shop in Birmingham - one of a dying breed; a place with real soul, stacked with piles of vinyl, where the slogan is "if we don't have it - them don't mek it". It's owned by the charismatic, irrepressible Rudy Sharpe (Larrington Walker), reluctantly helped out by his long-suffering neurotic son Adam (Lenny Henry) and Handsworth's first, black, surly girly goth, Tasha (Natasha Godfrey). Rudy has recently married his long-term love interest Doreen (Claire Benedict) which is leaving his best friend Clifton (Jeffery Kissoon) feeling left out - that is until Rudy's sister Miss Reenie comes to stay.
Adam ..........Lenny Henry
Rudy.......... Larrington Walker
Tasha...........Natasha Godfrey
Doreen..........Claire Benedict
Clifton...........Jeffery Kissoon
Miss Reenie.......Angela Wynter
RSPCA Man ........ ..Joe Sims
Written by Paula Hines
Script Editor: Danny Robins
Producer: Katie Tyrrell
SWEET JAMAICA * LORD KITCHENER
DANGER IN YOUR EYES * ASWAD
LORD A MASSIE MASSIE * DANNY D AND THE SHADOWS
NOT ME * ROBERT MITCHUM
GIRL I'VE GOT A DATE * ALTON ELLIS
I'M IN LOVE AGAIN * FATS DOMINO
TOP FORM/OLD MACDONALD * YELLOWMAN
SISTER LOVE * GREGORY ISAACS
BLACK WOMAN * SISTER CAROL
DANGEROUS * KARDINAL OFFISHALL & AKON.