Scottish wildcats are seen as an iconic emblem of the unspoilt wilderness of Scotland. It has been suggested that there may be fewer than one hundred pure bred wildcat in Scotland, with some studies concluding that this species may actually be rarer that the Amur tiger or even extinct as a genetic species. Saving Species reporter Karen Partridge travels to Scotland to meet Kerry Kilshaw from the Wildlife Conservation Research Unit, University of Oxford; in the hope of finding one of the last wildcats for herself and in doing so looks at the role genetics is playing in preserving this species.
Professor Lynne Boddy from Cardiff University travels to the New Forest in search of a very rare fungus, the bearded tooth fungus (Hericium erinaceus). This species is commonly grown commercially however in the wild it is one of the rarest fungi's in the UK and it's importance in the woodland ecosystem as a wood-recycling fungus is giving conservationists cause for concern.
Also in the programme - News from around the world with our regular news reporter, Kelvin Boot. And we'll update you on the activities of the Open University's iSpot.
Last on
Scottish Wildcats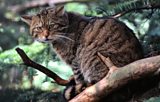 Scottish Wildcats are the only member of the cat family that are still wild in the UK today and according to the Scottish Wildcat Association there are believed to be fewer than 100 remaining. 
The Aigas Wildcat Project is a breeding programme that was set up in early 2011 who are planning to release a wildcat kitten into the wild before the end of the year.  To keep up to date with developments regarding Scottish Wildcat conservation you can visit the Scottish Natural Heritage website.
Hericium Erinaceus - Bearded Tooth Fungus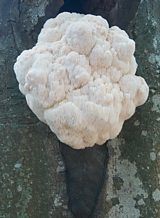 Hericium Erinaceus is a wood recycling fungus referred to by an array of names including the Bearded Tooth Fungus, Old Man's Beard, Satyr's Beard and the Tree Hedgehog.
Recognisable by the large fruitbody covered in white icicle like projections, the Hericium Erinaceus is found in central deadwood of trunks and wide diameter branches of living or dead broadleaved trees.
Although eaten throughout Asia, the Hericium Erinaceus is endangered in the UK and is protected by a Biodiversity Action Plan.  More information can be found on the Defra website.
Professor Lynne Boddy and Alan Lucas