Is Social Mobility Overrated?
Anne McElvoy chairs a debate on Social Mobility at the Radio 3 Free Thinking Festival: Is Social Mobility Overrated?
Social Mobility has become the new Holy Grail for politicians, with all three main parties united in their desire to break down social barriers and inequality. It's an emotive topic in Britain, raising issues of class, wealth and education.
But for some people to rise up, do others have to slide down? And does greater openness to talent necessarily make a more equal society?
Tackling the Free Thinking Festival's central theme "Them and Us" is a panel including Guardian columnist Polly Toynbee, Oxford historian Lawrence Goldman, management consultant Jamie Whyte, and Director of SCHOOLS NorthEast Beccy Earnshaw.
The event is chaired by Night Waves presenter Anne McElvoy and recorded as part of BBC Radio 3's Free Thinking Festival 2012.
The festival of ideas takes place at The Sage Gateshead Friday 2 - Sunday 4 November and is broadcast for three weeks on Radio 3 from Friday 2 November.
Last on
Social Mobility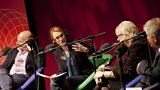 From left to right: Jamie Whyte, Anne McElvoy, Polly Toynbee & Lawrence Goldman debating social mobility, on stage at BBC Radio 3 Free Thinking Festival 2012.
CLICK to LISTEN & SEE all programmes from the Free Thinking Festival 2018: The One and the Many
CLICK to LISTEN & SEE all programmes, images, clips & features from 2017's festival