Main content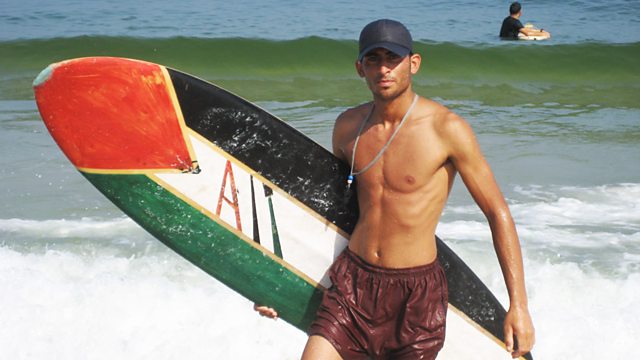 The Gaza Surf Club
A portrait of life in Gaza through the eyes of a group of young Palestinian surfers who find freedom in riding the waves off the coast of this troubled territory.
Violence and conflict have never been very far from the tiny Palestinian territory of Gaza. Damaged buildings and empty spaces in Gaza City still bear witness to Israeli military attacks in 2008 and 2012 in response to rockets fired into Israel by militant groups.
But one thing Gaza does have in its favour is the sea. Long sandy beaches stretch right down the territory's west coast and on summer weekends it seems that most of Gaza's one-and-a half million residents are enjoying themselves on the beach. And that's where you'll find members of the Gaza Surf Club, a group of young Palestinians who ride the waves off the coast of this troubled territory.
In Gaza Surf Club we meet Mahmoud El Reyashi, Yousef Abo Ghanem and Ibrahim Nehad, three members of the Club in their teens and early twenties who take their boards, turn their backs on the land with its hardships, politics and conflict, and immerse themselves in the surf. In Gaza the unemployment rate is 44% and the average per capita income is just $2 a day. Young men are vulnerable to being drawn into a cycle of radicalism and violence but Mahmoud, Yousef and Ibrahim have defied this, finding in surfing freedom, optimism and even hope for the future.
One source of hope is the fact that many of the boards they use were originally donated by Israelis and Jews who believe that surfing transcends national and religious barriers. We meet surfing legend Dorian 'Doc' Paskowitz, a 91 year old Jewish-American who in 2007 arrived at the Erez border crossing, the main Israeli checkpoint into Gaza, with fifteen surfboards. He'd been inspired to travel the twelve thousand miles from his home in California by a newspaper picture of two Palestinians surfers sharing one beaten-up old surfboard between them. Fifty years earlier Doc Paskowitz had brought surfing to Israel and now he was doing the same for Gaza.
The relationship between the Israeli government and Hamas who control Gaza means that few surfboards are currently making it across the border into Gaza but members of the Club are still in regular contact via Facebook with fellow surfers in Israel and across the world. And they're learning new surfing skills from Matt Olsen, the son of an American diplomat who has known Gaza since childhood. We join Matt as he helps members of the Club with setting up their own surf shack, a place to hang out and recruit new members on Gaza City's Sheikh Hazdien Beach.
Gaza Surf Club is a portrait of life in Gaza through the eyes of a group of young Palestinian surfers. The programme gives a fresh perspective on the issues which beset this troubled territory and shows how a community has overcome divisions and tensions. It's about common humanity and passion rather than a divided people. In a territory where every scrap of land is weighed down with history and bloodshed, surfing allows you to leave the land behind and discover freedom.
After all, if you can surf together, you can live together.
Last on
Broadcast

Featured in...
Unexpected stories from across the globe, from surfers in Gaza to Northern Soul in Tokyo.