Main content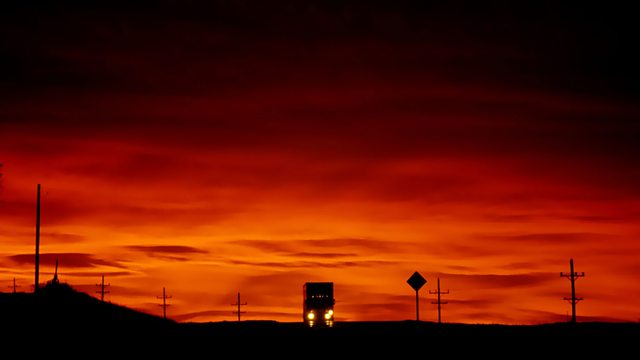 05/11/2012
A Beethoven symphony cycle continues with Nos 2 and 5. With the Melbourne Symphony Orchestra conducted by Douglas Boyd.
05-Nov-12
12:31 AM
Beethoven, Ludwig van [1770 -1827]
Symphony No.2 in D major (Op.36)
Melbourne Symphony Orchestra, Douglas Boyd (conductor)
1:05 AM
Beethoven, Ludwig van [1770 -1827]
Symphony No.5 in C minor (Op.67)
Melbourne Symphony Orchestra, Douglas Boyd (conductor)
1:40 AM
Bach, Johann Sebastian [1685-1750]
Magnificat in D major (BWV.243)
Antonella Balducci (soprano), Ulrike Clausen (alto), Frieder Lang (tenor), Fulvio Bettini (baritone), Chorus of Swiss-Italian Radio, Ensemble Vanitas Lugano, Diego Fasolis (conductor)
2:07 AM
Mozart, Wolfgang Amadeus [1756-1791] dubious attribution
Partita in B flat (K.Anh.C 17'2)
The Festival Winds
2:22 AM
Grainger, Percy (1882-1961)
To a Nordic Princess
Leslie Howard (piano)
2:31 AM
Rachmaninov, Sergey (1873-1943)
Rhapsody on a theme of Paganini for piano and orchestra (Op.43)
Nikolay Evrov (piano), Bulgarian National Radio Symphony Orchestra, Vassil Stefanov (conductor)
2:55 AM
Franck, Cesar [1822-1890]
Sonata for violin and piano (M.8) in A major
Alina Ibragimova (violin), Cédric Tiberghien (piano)
3:22 AM
Wirén, Dag (1905-1986)
Serenade for Strings (Op.11)
Swedish Radio Symphony Orchestra, Niklas Willén (conductor)
3:37 AM
Ibert, Jacques (1890-1962)
Trois Pièces Brèves
Galliard Ensemble BBC New Generation Artists
3:45 AM
Pärt, Arvo (b. 1935)
Spiegel im Spiegel
Morten Carlsen (viola), Sergej Osadchuk (piano)
3:52 AM
Berezovsky, Maxim Sosontovitch (1745-1777)
Do not reject me (Ps.70)
The Seven Saints Chamber Choir, Dimitar Grigorov (conductor)
4:01 AM
Gilse, Jan van (1881-1944)
Concert Overture in C minor
Netherlands Radio Symphony Orchestra, Jac van Steen (conductor)
4:11 AM
Suchon, Eugen (1908-1993)
Elegy and Toccata for piano, strings and percussion (Elegy; Toccata)
Klára Havlíková (piano), Slovak Radio Symphony Orchestra Bratislava,Ondrej Lenárd (conductor)
4:20 AM
Marcello, Alessandro (1669-1747)
Concerto in D minor
Jonathan Freeman-Attwood (trumpet), Colm Carey (organ of the Dutch Church, Austin Friars, London)
4:31 AM
Vivaldi, Antonio (1678-1741)
Concerto da Camera in C major (RV.87)
Camerata Köln: Michael Schneider (recorder), Hans-Peter Westermann (oboe), Michael McCraw (bassoon), Mary Utiger & Hajo Bäß (violins), Rainer Zipperling (cello), Harald Hoeren (harpsichord)
4:39 AM
Moniuszko, Stanislaw (1819-1872) arr.Stanislaw Wiechowicz & Piotr Mazynski
4 Choral Songs - Kozak ; Wedrowna ptaszyna ;
Polish Radio Choir; Marek Kluza (director)
4:48 AM
Chopin, Frédéric (1810-1849)
Ballade No.1 in G minor (Op.23)
Shura Cherkassky (piano)
4:57 AM
Dukas, Paul (1865-1935)
Sorcerer's apprentice - symphonic scherzo for orchestra
Orchestre National de France, Charles Dutoit (conductor)
5:09 AM
Mozart, Wolfgang Amadeus (1756-1791)
Horn concerto No.3 in E flat, K.447
James Sommerville (horn), CBC Vancouver Orchestra, Mario Bernardi (conductor)
5:25 AM
Weiner, Leó (1885-1960)
Divertimento no.2 (Op.24) in A minor
Liszt Ferenc Chamber Orchestra, János Rolla (leader)
5:41 AM
Beethoven, Ludwig van (1770-1827)
Quartet for strings (Op.18'6) in B flat major;
Psophos Quartet
6:06 AM
Bach, Carl Philipp Emanuel (1714-1788)
Concerto for flute and strings in D minor (Wq.22)
Martin Michael Koffer (flute), Slovenicum Chamber Orchestra, Uros Lajovic (conductor).