Main content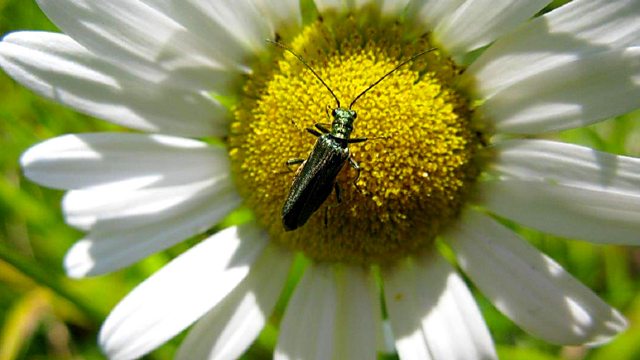 The Night Island
Chris Sperring looks for the Manx shearwater and storm petrel with ecologist David Boyle. To find them they go to Skomer Island after dark.
As dusk begins for this weeks Living World ornithologist Chris Sperring travels by boat over to Skomer where he is joined by David Boyle, an ecologist researching two of our most mysterious seabirds, the Manx Shearwater and the storm petrel.
A visitor to Skomer island in the daytime in late summer will find sea the strewn with rafts of guillemots, razorbills and puffins, which scatter, leaving watery trails of sunlit footprints across the surface, or dive deep to make a pathway for the approaching boat. But at night a more dramatic wildlife spectacle unfolds as storm petrels and tens of thousands of nocturnal Manx shearwaters return to their burrows, skimming the air like half-seen shadows and tumbling clumsily to the ground.
Once the day flying seabirds have fallen quiet, in the semi-moonlit night Chris and David sit on a cliff edge waiting with anticipation for the first birds to come in from the sea; soon bat like shapes fly around their heads as the sparrow sized storm petrels begin to arrive. Although few in number on the island, storm petrels give a clue to the islands other and much bigger nocturnal seabird, the Manx shearwater. Moving further into the island Chris discovers that these true global seabirds, who travel thousands of kilometres from Wales to South America in a year, have difficulty landing and walking as their legs and feet are designed for swimming and digging. A true seabird.
Sitting amongst the huge Manx shearwater breeding colony, birds begin to crashland all around them and with so many birds all calling at once, the intensity of their discordant cries smothers the island in a nocturnal blanket of noise.
Last on