Main content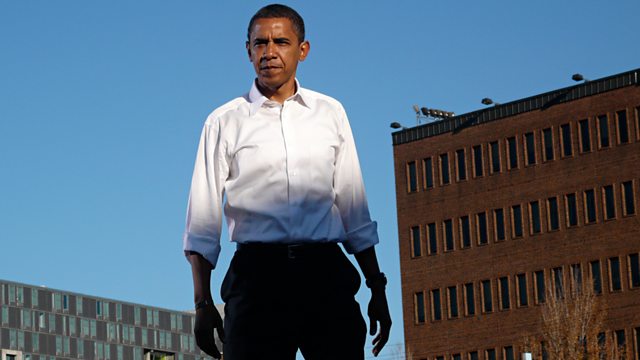 In Seven Days: Inside a Historic Campaign
Artist Nicola Green tells the remarkable inside story of her journey to capture a series of silkscreen images of Barack Obama's 2008 presidential campaign.
Artist Nicola Green had the unique opportunity to travel across America with Barack Obama and his team between August 2008 and January 2009. Given unprecedented access to the campaign trail, she followed Senator Obama from nomination through to his election as President. The series of portraits she made of this historic campaign are captured in seven silkscreen images which hang in Washington's Library of Congress.
"In Seven Days - Inside an Historic Campaign" is a montage programme telling the story of that campaign as seen through Nicola's eyes. She describes how it all began and how she left her husband - MP David Lammy - and her two small children behind, to make seven trips from the UK to America, joining Obama and his team on the campaign trail.
Nicola talks about the hundreds of drawings she made, photographs she took and interviews she conducted, to tell the story of the events that unfolded and how she captured them in the seven silk-screen prints.
Alongside Nicola we hear a from others involved in the 2008 campaign, historians from the Library of Congress in Washington and the Walker Gallery in Liverpool where Nicolas work will be exhibited in 2013, and other political artists who talk about the challenges of distilling thousands of pictures into one iconic image.
We also hear how this deeply personal journey unfolded and became not just a story of political and historical change, but also a story about the past, the future and what Obama symbolized for the American people and the world.
Producer: Angela Hind
A Pier production for BBC Radio 4.