Main content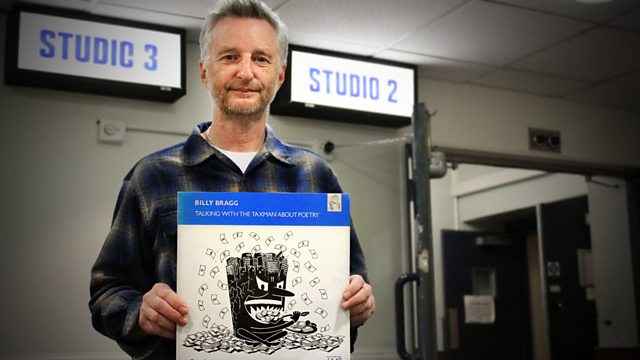 Billy Bragg (the A-Side)
4 Extra Debut. Billy Bragg in conversation with John Wilson about 'Talking with the Taxman about Poetry', his 'difficult' third album. From October 2012.
John Wilson's series in which he talks to leading performers and songwriters about the album that made them or changed them. Recorded in front of a live audience at the BBC's iconic Maida Vale Studios.
Programme 1, A-side. 'Talking With The Taxman About Poetry' - Billy Bragg reveals how the self-proclaimed 'difficult' third album was written and created with a guitar he bought when he was out shopping for swimming trunks (he claims he still swims naked as a result)... he explains how a film about the James Brothers helped him write "There's Power In A Union'... and describes how Andy Kershaw's inability to shut up led him to writing 'Levi Stubbs' Tears'. And he plays excerpts from the album live in front of the audience.
In the B-side of the programme, it's the turn of the audience to ask the questions and Billy considers the state of protest songs today, reveals what music he is writing at the moment and explains what poetry he would discuss with today's taxman.
Other programmes include Paul Weller talking about The Jam's final album, 'The Gift'; Suzanne Vega recalls the making of 'Solitude Standing', the album that made her a worldwide superstar; and Rod Argent and Colin Blunstone takes us back to the seminal Zombies' record 'Oracle And Odessey'
Complete versions of the songs performed in the programme (and others) can be heard on the 'Mastertapes' pages on the Radio 4 website, where the programmes can also be downloaded and other musical goodies accessed.
Producer: Paul Kobrak.
Last on