Main content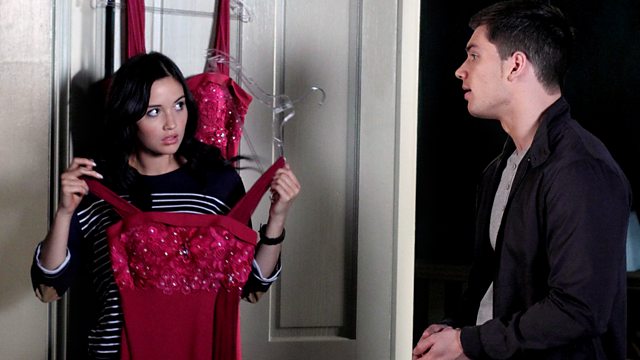 23/10/2012
Phil, worried about his residency case, tries to dodge immigration officers. An old friend comes to Phil's rescue, giving him an idea that stuns Sharon.
Jimmie tells Phil he can't be involved in anything illegal and his residency application would be viewed more favourably if he was part of a happy family. Phil stops Sharon going to the police about some counterfeit notes and makes AJ get rid of a dodgy car. The Border Agency want to talk to Phil about the decorators he used at the Vic. Alfie hires Fatboy and Tamwar to pose as the painters. Sharon saves the day, producing an invoice which appeases the Border Agency. Phil suggests to Sharon they could be a couple; Social Services would love her and Lexi would be back in no time.
Lola's upset when a book she buys Lexi, her own childhood favourite, has missing pages. Phil gives her money for new books.
Masood and AJ have forgotten Tamwar's birthday but Zainab's sent a card. Masood suggests AJ should contribute to the household finances now he has a job. Instead, AJ empties the family money tin to buy a motorbike from Phil then, discovering it's Tamwar's birthday, claims to Masood it's a present for him. Tamwar wanted an ordinary day, but thanks to Fatboy ends up having birthday drinks with him, Poppy, Christian, Syed, Masood and AJ. The atmosphere's tense but Tamwar's glad everyone's there - even though he didn't invite any of them.
Tanya's bridesmaids' dresses arrive, including one for Rainie. Joey wants a sales job at the car lot, Max makes him sell a toy car to Lauren. Lauren has plenty of scathing comebacks for Joey but Tanya and Abi are impressed by his sales patter and Max offers him a job on commission. Joey's dismissive when Lauren brings up his kiss with Whitney.
Rushed off her feet at the B&B, Kim talks Ray into taking over. Ray finds the silver bracelet Cora lost.
Music Played
Timings (where shown) are from the start of the programme in hours and minutes
Credits
| Role | Contributor |
| --- | --- |
| Sharon Rickman | Letitia Dean |
| Phil Mitchell | Steve McFadden |
| Tamwar Masood | Himesh Patel |
| Masood Ahmed | Nitin Ganatra |
| AJ Ahmed | Phaldut Sharma |
| Syed Masood | Marc Elliott |
| Christian Clarke | John Partridge |
| Arthur 'Fat Boy' Chubb | Ricky Norwood |
| Poppy Meadow | Rachel Bright |
| Alfie Moon | Shane Richie |
| Max Branning | Jake Wood |
| Tanya Cross | Jo Joyner |
| Lauren Branning | Jacqueline Jossa |
| Joey Branning | David Witts |
| Whitney Dean | Shona McGarty |
| Lola Pearce | Danielle Harold |
| Billy Mitchell | Perry Fenwick |
| Ray Dixon | Chucky Venn |
| Kim Fox | Tameka Empson |
| Patrick Trueman | Rudolph Walker |
| Cora Cross | Ann Mitchell |
| Abi Branning | Lorna Fitzgerald |
| Executive Producer | Lorraine Newman |
| Director | Rupert Such |
| Writer | Paul Mari |
| Jimmie Broome | Samuel James |
| Border Agency Officer | Lee Whitlock |