Main content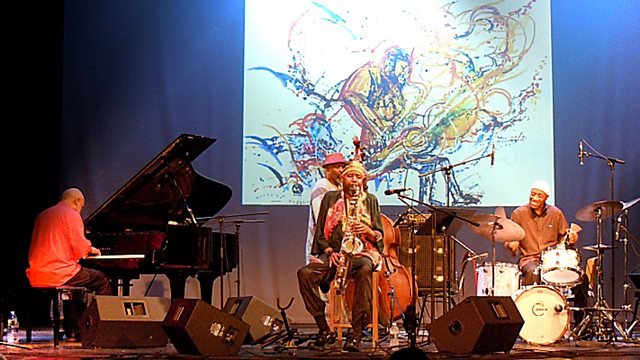 A Tribute to David S. Ware
Jez Nelson celebrates the music of the late David S Ware, with highlights from the saxophonist's 1999 New York quartet session. Plus Planetary Unknown at the 2011 Vision Festival.
Saxophonist David S. Ware died on 18th October 2012. One of the most dynamic players on the New York free-jazz scene over the last thirty years, Ware achieved international acclaim with his quartet during the 1990s; in tribute to his life of music, Jez Nelson presents an exclusive session from that band (featuring Matthew Shipp and William Parker), recorded for Jazz on 3 in 1999.
Following life-saving surgery in 2009, Ware returned to record a series of solo concerts, performances that display his trademark spiritual intensity, and to tour with Planetary Unknown, a band of free-jazz heavy-weights whose 2011 Vision Festival set also features in this programme.
Presenter: Jez Nelson
Producers: Peggy Sutton & Phil Smith.
Last on

Music Played
Jez and Kevin Le Gendre discuss the life and music of David S. Ware

Interview - David S. Ware talks about the music of the heavenly bodies with Jason Crane at The Jazz Session

Interview - Bassist William Parker on David S. Ware

David S. Ware Quartet in session, recorded in New York on 31st March 1999

Untitled

Line-up: David S. Ware (tenor saxophone), Matthew Shipp (piano), William Parker (bass), Guillermo E. Brown (drums)

David S. Ware and Cooper-Moore talk about Planetary Unknown with Jason Crane at The Jazz Session

Planetary Unknown, recorded at the Vision Festival, New York on 10 June 2011

Untitled

Line-up: David S. Ware (tenor saxophone), Cooper-Moore (piano), William Parker (bass), Muhammad Ali (drums)

Excerpt from New Visions / Wandering Visions at Rest by Steve Dalachinsky

David S. Ware Quartet in session, recorded in New York on 31st March 1999

Untitled

Line-up: David S. Ware (tenor saxophone), Matthew Shipp (piano), William Parker (bass), Guillermo E. Brown (drums)

Broadcast