Main content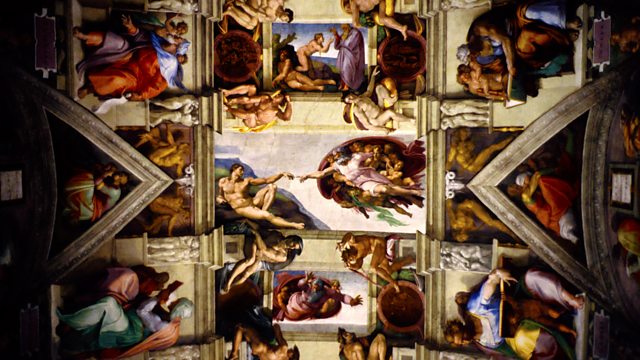 God and the Sistine Chapel
The Rev Lucy Winkett explores what Michelangelo's Sistine Chapel painting have to say to Christians today, and considers the image of God that emerges from the artist's vision.
God and the Sistine Chapel
Each year millions of visitors marvel at the artistry and beauty of the Sistine Chapel. Michelangelo was commissioned to undertake the project by Pope Julius II in 1508 and, with work on the scaffolding proving physically and emotionally agonizing for the reluctant artist, he recounted, "After four tortured years, more than 400 over life-size figures, I felt as old and as weary as Jeremiah. I was only 37, yet friends did not recognize the old man I had become."
On November 1 1512, All Saint's Day, the Chapel was unveiled to the world as Pope Julius II celebrated mass there for the first time in four years. According to Giorgio Vasari, Michelangelo's pupil, those who attended were left "speechless with astonishment" by the ceiling's technical mastery and scale.
Michelangelo had decorated the heart of the work, the central ceiling vault, with nine scenes from the Book of Genesis: three depicting the Creation, three the fall of Adam and Eve and three the story of Noah.
Now, to mark the 500th anniversary of the completion of the commission, four contrasting figures offer personal responses to Michelangelo's Genesis paintings.
Tonight Rev Lucy Winkett, Rector of St James's church in London's Piccadilly, explores what Michelangelo's masterpiece has to say to Christians of today, and considers the image of God that emerges from Michelangelo's vision.
More episodes
Previous
You are at the first episode