Main content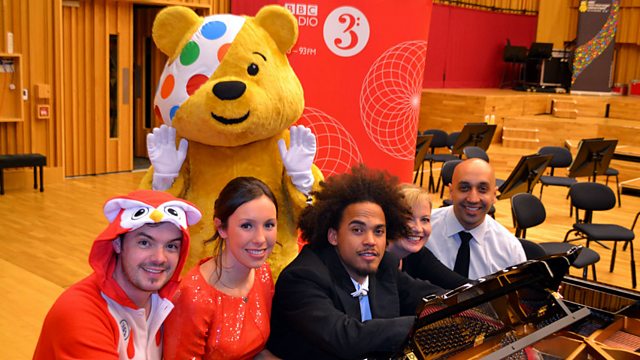 Piano Season on the BBC: Gala Concert
Concluding the BBC's piano season, Petroc Trelawny presents a gala concert in support of Children in Need, with BBC NOW in music by Bach, Fitkin and Rachmaninov among others.
In support of Children in Need and in conclusion to Piano Season on the BBC, Petroc Trelawny presents a live gala concert from BBC Hoddinott Hall in Cardiff with the BBC National orchestra of Wales and Grant Llewellyn. Click to donate via the link on the Radio 3 website. As well as several party items, including an appearance from the Radio 3 Piano Learners who have undertaken to learn the basics of the instrument in just six weeks - they include: Radio 1's Dev; BBC Breakfast's weather presenter, Carol Kirkwood; the Asian network's Tommy Sandhu and Olympic Pentathelete Samantha Murray - all proficiently assisted by Blue Peter's Barney Harwood - there are also appearances from Noriko Ogawa, Kathryn Stott, Alexandra Dariescu, Thomas Yu (Joint Winner of the Yamaha Amateur Piano Competition) and Valentina Lisitsa. Left-hand pianist Nicholas McCarthy performs music for solo piano.
The programme includes:
JS Bach: Concerto for Three Pianos in D minor BWV 1063
(Noriko Ogawa, Thomas Yu, Alexandra Dariescu)
Graham Fitkin: Circuit
(Kathryn Stott, Noriko Ogawa)
Rachmaninov: Piano Concerto No 2 in C minor
(Valentina Lisitsa)
Alexandra Dariescu, Valentina Lisitsa, Nicholas McCarthy, Noriko Ogawa, Kathryn Stott,Thomas Yu, pianos
BBC National Orchestra of Wales
Grant Llewellyn, conductor.