Main content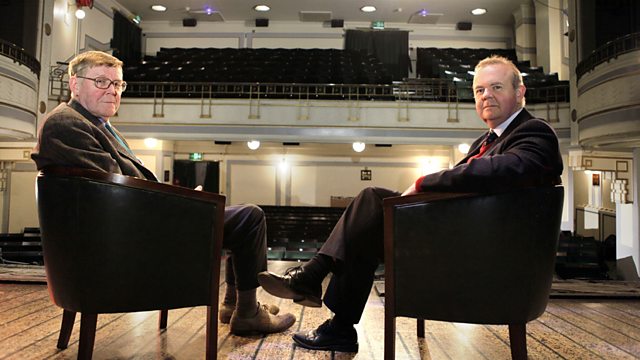 Last Hurrah?
Ian Hislop investigates Britain's emotional history. He takes a wry and witty look at the ups and downs of the stiff upper lip since the First World War.
In the final part of his series, Ian Hislop takes a wry and witty look at the ups and downs of the stiff upper lip since the First World War and asks whether it still has a role in contemporary Britain.
He begins with the General Strike of 1926 and reveals how, despite growing class conflict, British resilience and control helped hold the nation back from all out revolution. He considers how, as the Empire declined in the 1930s, the stiff upper lip became something to have an affectionate laugh at, exploring in particular the British Character series of cartoons by Pont. From then onwards, Britons became increasingly self-conscious about the stiff upper lip; everyone, regardless of how they felt about it, recognised it as a facet of the national character.
This would serve us in good stead during the war years, when 'keeping calm and carrying on' became essential for national survival. Ian examines the original poster behind the now ubiquitous slogan and tells its story. He also unpicks the truths from the untruths which make up the legendary blitz spirit.
Ian shows, however, that for the post-war generation the stiff upper lip began to be something treated with disdain. He meets writer Alan Bennett, cast member of the groundbreaking 1960s satirical show Beyond the Fringe - and discusses its assault on old establishment values. But Ian also travels to the Welsh community of Aberfan, where in 1966 local people met terrible tragedy with an old-fashioned resilience and dignity in the face of an increasingly intrusive media which was now insisting that we all had a right to share in other people's grief.
Ian identifies the influence of American 'therapy culture' on British attitudes to emotional expression in the 1970s and peeks inside Cosmopolitan magazine to see how this seduced a wider public. A general national unbuttoning was epitomised by the touchy-feely approach of Princess Diana and the nation's outpouring of grief at her death. Ian meets the first person to lay flowers at Kensington Gardens and shares his own feelings about the day of the funeral.
Finally Ian asks whether the frequent displays of emotion and floods of tears on today's TV confirm the stiff upper lip's departure or whether just possibly, when the going gets tough, there's still a little of it left?
Credits
| Role | Contributor |
| --- | --- |
| Presenter | Ian Hislop |
| Presenter | Ian Hislop |
| Series Producer | Deborah Lee |
| Series Producer | Deborah Lee |
| Producer | Tom McCarthy |
| Producer | Tom McCarthy |
| Director | Tom McCarthy |
| Director | Tom McCarthy |