Main content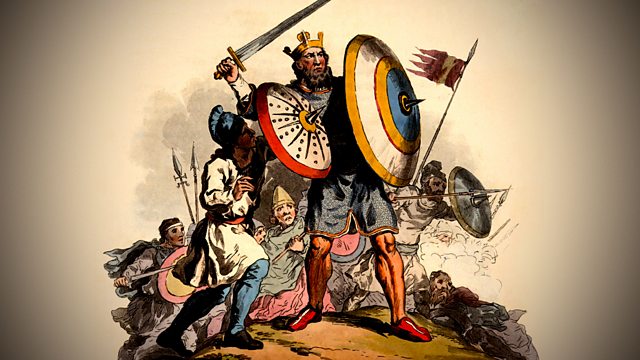 Historian Barbara Yorke tells the story of Hild of Whitby, an abbess who held great power and influence in the seventh century. She is a largely forgotten pre-feminism model.
The Anglo Saxons are somewhat out of fashion, yet the half millennium between the creation of the English nation in around 550 and the Norman Conquest in 1066 was a formative one.
This major new series rediscovers the Anglo-Saxons through vivid portraits of thirty individuals - women as well as men - written and presented by leading historians, archaeologists and enthusiasts in the field.
The 8th Portrait in the series is of a woman long overdue for rediscovery.
8.Hild of Whitby
In a largely warrior-dominated society, the seventh century abbess Hild of Whitby held extraordinary power and influence. Barbara Yorke tells an important story, largely overlooked by subsequent history, of a time when a notable religious woman such as Hild could be in charge of a monastery the size of a small town - a monastery in which both monks and nuns lived and future bishops might be trained.
This Portrait also sheds fascinating light on an era before the gender politics of the newly established Church took hold . As Barbara Yorke writes: " The glory days of women like Hild could not last. She was the product of the circumstances of the conversion period when traditional religious roles of women, and the expectations of royal houses that some of the family could be church leaders, gave women unique opportunities. The patriarchal hierachy of the church asserted itself when people got down to reading the small print. The idea of a woman training a province's bishop came to be seen as impossible."
And she concludes: "Hild is a woman well worth remembering, as some thirteen hundred years would elapse before we find women holding power within the church of England that is in any way comparable to her's."
Producer: Beaty Rubens.
Featured in...
A series which rediscovers the Anglo-Saxons through vivid portraits of individuals.