Main content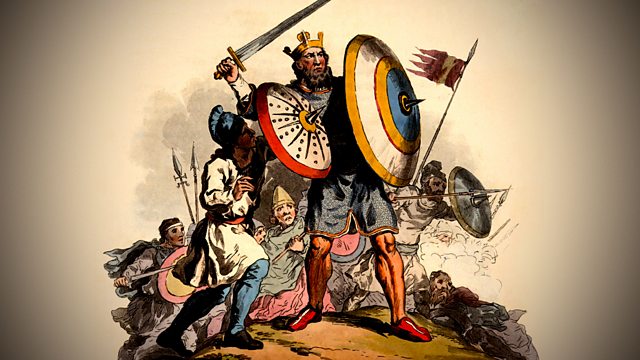 Historian Richard Gameson discusses King Edwin, the ruler of Northumbria famous for his conversion to Christianity.
A major new series rediscovering the Anglo-Saxons through thirty portraits of ground-breaking individuals.
The Anglo Saxons are somewhat out of fashion, yet the half millennium between the creation of the English nation in around 550 and the Norman Conquest in 1066 was a deeply formative one.
6.King Edwin: Richard Gameson on the king of Northumbria famous for his conversion to Christianity
Edwin, king of Northumbria from 616-633, is the first Anglo-Saxon king whose rule can be examined in detail as a newly emerging superpower, but he is best remembered for his struggle over whether to convert to Christianity.
Historian Richard Gameson starts with the famous account in Bede about the life of a man being like the flight of a sparrow through a fire-lit hall: "For the few moments it is inside, the storm and wintry tempest cannot touch it, but after the briefest moment of calm, it flits from sight out into the storm again."
He goes on to place Edwin's spiritual struggle into a wider context, exploring the political implications of such a conversion at a time when a king needed to be a diplomat, showman and powerful warlord as well as a private individual.
Weaving the personal and political together, Richard Gameson's vivid portrait reveals the complex nature of kingship in early Anglo-Saxon times.
Featured in...
A series which rediscovers the Anglo-Saxons through vivid portraits of individuals.