Main content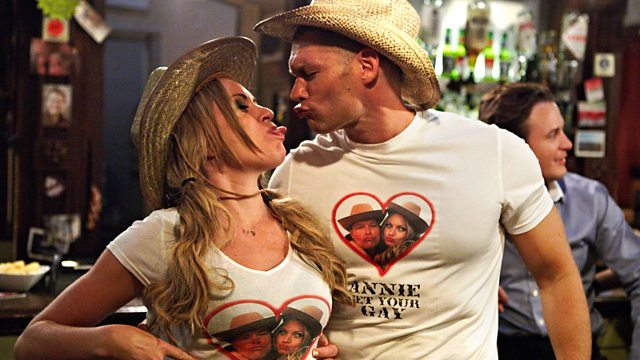 15/10/2012
It is the day of Christian and Syed's stag do. Christian is looking forward to it, but Syed's mind is on other things. During the celebrations, someone catches Fat Boy's eye.
Christian's concerned he hasn't seen Syed all day. Tamwar receives an urgent letter at the Argee Bhajee which Syed hurriedly snatches. Jane can't make the wedding; Christian wouldn't care if it was just he and Syed. At the stag party, Syed finds Christian chatting to Danny. Danny 'jokes' he's been seeing Syed a lot; Syed insists it's just business. Masood hints Danny should leave. Syed fails Roxy's quiz about Christian. Stressed, Syed bolts. Danny follows him to the deserted restaurant; he thinks Syed deserves more and tries to kiss him. Syed swears he loves Christian and wants his money. Danny reveals their deal's gone bust. Masood arrives, revealing he saw them together. Danny jeers Syed wanted to be caught. Syed punches Danny. Masood demands Syed tells Christian. Syed's disgusted Masood dares lecture him about trust. At the Vic, Syed lies he was off discussing business with Danny. Zainab presents Syed with the framed family photo, giving them her blessing. In tears, Syed tells Christian he can't marry him.
Roxy's excited for Christian's stag party. AJ's forgotten to organise Syed's; Fat Boy agrees to hold both in the Vic. Christian and Roxy flirt with Danny. Roxy's upset they can't have one night together without Syed. Zainab apologises to Christian for the past. AJ appears to have hired a female stripper, then her male assistant strips. Despite her protests, Zainab rubs oil on the stripper.
Denise won't let AJ hold Syed's stag in the B&B. Zainab coaxes her to the Vic. Fat Boy's gobsmacked to see her dressed up. The two enjoy dancing together. Fat Boy defends Denise from lecherous advances from AJ and a lecherous party guest. The guest punches Fat Boy and throws a drink over Denise. Fat Boy walks Denise home. They kiss and stumble inside.
Kim makes hints to Ray about marriage.
Music Played
Timings (where shown) are from the start of the programme in hours and minutes
Credits
| Role | Contributor |
| --- | --- |
| Christian Clarke | John Partridge |
| Syed Masood | Marc Elliott |
| Zainab Khan | Nina Wadia |
| Masood Ahmed | Nitin Ganatra |
| Tamwar Masood | Himesh Patel |
| Danny Pennant | Gary Lucy |
| Arthur 'Fat Boy' Chubb | Ricky Norwood |
| Denise Fox | Diane Parish |
| Kim Fox | Tameka Empson |
| Ray Dixon | Chucky Venn |
| Roxy Mitchell | Rita Simons |
| Tanya Cross | Jo Joyner |
| AJ Ahmed | Phaldut Sharma |
| Lucy Beale | Hetti Bywater |
| Jean Slater | Gillian Wright |
| Marcus | Jonathan Taylor |
| Executive Producer | Lorraine Newman |
| Director | Michael Owen Morris |
| Writer | Pete Lawson |