Main content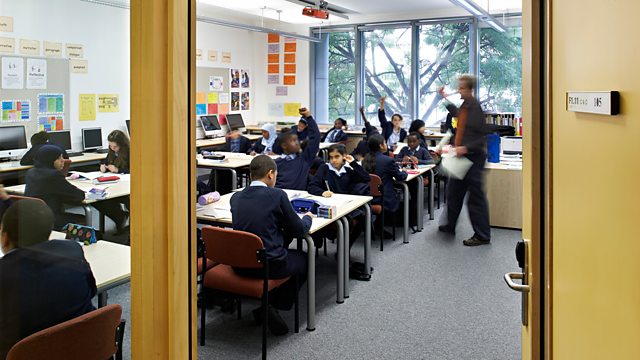 Should pornography be discussed in school classes?
Should pornography be on the school curriculum? Plus, Lucy Liu is a female Dr Watson, the history of advertising of sanitary products, and Rock Choir. Presented by Jenni Murray.
As school children seem increasingly to come into contact with pornography teachers debate whether porn should be discussed as part of the school curriculum. Lucy Mangan reviews the new Sherlock Holmes drama, Elementary, which features Lucy Liu as a female Dr Watson. We look at the history of advertising of sanitary products - what is it with those jars of blue liquid? And Caroline Redman Lusher, the founder of Rock Choir, receives an award for her work. Presented by Jenni Murray.
Last on
Chapters
Teenagers, Porn, And Sex Education

Duration: 13:25

Sherlock's Female Watson

Duration: 06:32

Rock Choir

Duration: 08:55

Advertising Sanitary Products

Duration: 08:15

Women's Welfare At Work

Duration: 04:40

Teenagers, Porn, And Sex Education

Should teenagers be taught about the issue of pornography while they're at school? In collaboration with Radio 1's Newsbeat we'll be hearing pupils' views on the matter, and from teachers. As more young people learn about sex from the internet, and it informs the way they believe they should look and act, does it become more important to include the impact of that in Personal, Social and Health Education (PHSE) lessons? In an interview with Radio 1 Newsbeat, the National Association of Head Teachers Policy Advisor said that the NAHT support children being taught in age appropriate ways about the impact of pornography as part of the statutory PSHE programme. The NUT thinks this is a step too far. Christine Blower from the National Union of Teachers joins Jenni in the studio, along with teacher and writer Chloe Combi.

Sherlock's Female Watson

The new American version of Sherlock Holmes plays with convention by casting the actress Lucy Liu as the male character Watson, and Johnny Lee Miller as a cocaine snorting Holmes. The series also swaps Victorian England for modern day New York. But what impact does a female sidekick have on the classic detective story, and how does it change the dynamic of the famous Holmes/Watson relationship? Jenni discusses with the Guardian journalist and TV reviewer Lucy Mangan.

 

Elementary begins on Sky Living on Tuesday 23 October at 9pm

Rock Choir

Rock Choir is the largest and most popular choir in the UK, with groups in 200 towns across the country and more than 16,000 members. It's come a long way from a small advertisement in a coffee shop in Farnham in 2005. They now have three Guinness World Records, their own TV series and are rehearsing for mass concerts at the O2 in London and the Echo Arena Liverpool.  Last week their founder, Caroline Redman Lusher, was honoured by the British Academy of Songwriters, Composers and Authors for her 'Special contribution to Britain's entertainment industry'.

 

Advertising Sanitary Products

Who can forget the 1980s tampon and towel ads with their power ballad sound tracks and images of happy women sky diving or dancing in slow motion? We take a look at the history of marketing sanitary products, and the recent online film making fun of those ads that's gone on to be a huge viral hit. Jenni talks to Gail Parminter, creative director of the ad agency Madwomen and Tiffany Maddox from Rubber Republic which made the Bodyform response.

Women's Welfare At Work

When the BBC Director General George Entwistle appeared before the Culture, Media and Sport select committee yesterday he announced that Dinah Rose QC will be looking at the BBCs handling of sexual harassment charges and how women are treated at the BBC. What do we think needs to be addressed in the current working life for women? What are the questions that big institutions need to ask themselves now? To discuss, Jenni is joined by Dianah Worman from the Chartered Institute of Personnel and Development.

Broadcast

Podcast

Women's voices and women's lives - topical conversations to inform, challenge and inspire.