The Future of the Oven
Tim Hayward glimpses the future of the domestic oven. After decades of remaining relatively unchanged, ovens will soon be intelligent , with probes, steam and user interfaces.
Mary Berry gives Tim some tips on how best to use your oven, and food historian Bee Wilson explains how ovens used to be so cutting edge that people were afraid of them.
Presenter: Tim Hayward. Producer: Emma Weatherill.
Last on
Mary Berry and Tim Hayward's Top Oven Tips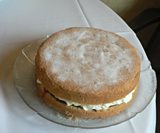 Tip 5 - converting recipes for fan ovens
If you are using an old recipe, subtract 20 degrees centigrade for fan ovens
Tip 4 - ovens only take around six minutes to heat up
For best results, wait for your oven light to switch on and go off again twice before putting your food in.
Tip 3 - spin your trays around
Most ovens are hotter at the back, so halfway through cooking spin your trays round.
Tip 2 - read the instruction book thoroughly
There are lots of features on your oven that you are missing out on.
Tip 1 - Mary Berry's recipe for Victoria Sponge Cake
Bake for 160 degrees centigrade in a fan oven for 35 minutes.