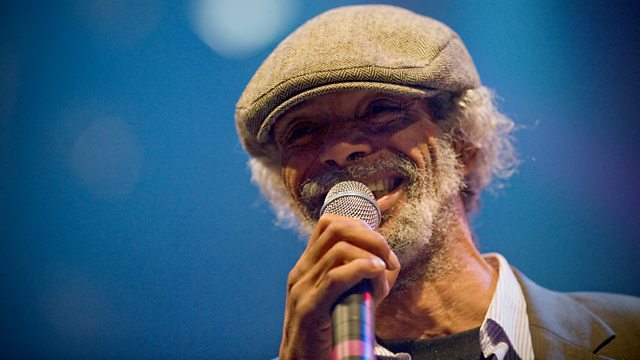 The Story of Gil Scott-Heron
A year on since Gil Scott-Heron prematurely passed away, Benji B celebrates the life of the musician, song-writer, poet, novelist and major-influencer of what we now know as hip-hop.
As an artist who is recognised as one of the first to pen rhymes over beats and speak about themes of injustice and social commentary through song, Gil Scott-Heron has impacted much of what we hear on 1Xtra today, and has been sampled and name-checked by the likes of Kanye West, Common and Nas. Lifelong fan of Gil, Benji B, goes back to Gil's beginnings and learns the story behind one of the most innovative and influential artists of all time, with contributions from Jamie XX, Speech Debelle, Shabazz Palaces, Jehst, DELS, Richard Russell, Mos Def, KRS-One, Chuck D and more.
Shortly before Gil passed away, he gained a whole new set of fans when Jamie XX remixed Gil's I'm New Here album - Jamie's version of the track I'll Take Care Of You became a major hit on dancefloors around the UK and, in turn, was taken up by Drake and Rihanna for chart success. Jamie shares his experience of working on the album and why Gil's music means so much to him. To understand why one of the UK's most influential young producers felt so privileged to work with 'the man himself', Benji B goes back in time to learn Gil's story.
Born on April Fool's Day in 1949, Gil Scott-Heron spent his childhood with his Grandma in America's deep south - Jackson, Tennessee. Moving to New York as a teenager, we learn from his friends how Gil assimilated the vibrancy and change going on in the 60s. His musician friends tell stories about Gil at university and Gil talks about starting his own musical career. His musical soul mate, Brian Jackson, describes how they came to release their first album of songs together and created one of the most biting combinations of satire and sound ever written, The Revolution Will Not Be Televised. London-based teenagers Joey and J'Danna speak about the influence of this track on today's generation of music makers, and we hear how they felt when they re-interpreted Gil's songs and got them played on 1Xtra!
In 2008, Gil was introduced to a UK producer who would finally bring Gil back into the studio and get his voice heard by an entirely new generation of fans. Benji B goes to meet the producer in question, Richard Russell, known for signing artists such as Dizzee Rascal and Adele to his label XL Recordings. Benji speaks to Richard in his home studio and hears how he came to meet Gil and how their relationship developed into a new Gil album 'I'm New Here', later to be passed on to Jamie XX, who created the remix of the album 'We're New Here'.
Passing away prematurely last year, Gil had a lot of dreams left unfulfilled and plans unfinished, but, remarkably, Richard Russell had recorded tracks with Gil that the world was still yet to hear. Exclusively for this documentary, Benji plays tracks from Gil's forthcoming posthumous album, Nothing New, that you will be the first to hear.
This show will be available to listen to via the BBC iPlayer until Sunday 4th November.
Last on