Main content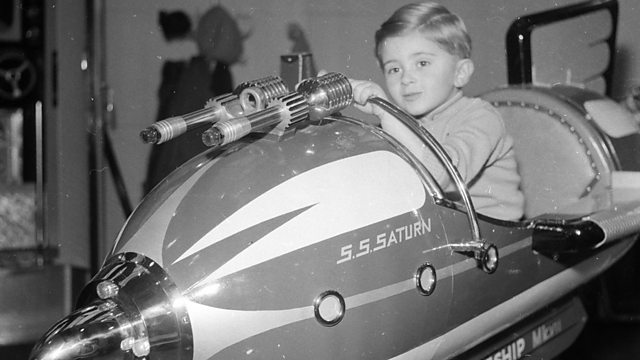 Telstar - The Sound of the Future
1962 marked the start of the space race and Joe Meek's music brought romance to the era, albeit in a DIY fashion. A maverick at heart, he inspired generations of musicians.
Like its subject matter, the Telstar satellites, Joe Meek's track was pioneering and otherworldly. We now take global communication and entertainment for granted, but in the early 1960s it was cutting-edge of technology. The Telstars were a series of satellites launched to provide telecommunications and faxes as well as live and recorded television feeds. The first was tiny, measuring under three feet in width and powered by a tiny 14 watts of power. Telstar 18 was launched as recently as 2004, and, given that its life expectancy was 13 years, must still be circling the globe. It was, as Harold Wilson put it, part of the "white heat of the technological revolution". And famously another Prime Minister, Margaret Thatcher, declared on Desert Island Discs that it was her favourite pop song.
Like the satellite, Joe Meek was at the cutting edge of technology though, admittedly, in a much more DIY fashion. Meek liked to spin a yarn that he'd beamed his recording up to the orbiting satellite and then recorded the returning signal for the spacey sound effects at the beginning of the track. But another ( more likely) story has it that he simply utilised a reversed tape recording of a toilet being flushed. Whatever the truth, it sounds suitably spectral and spooky.
As a child, Joe Meek had commandeered his father's shed to tinker with all sorts of electrical gizmos. He then spent his national service in the RAF as a radar technician, further fuelling his childhood obsession with electronics. Prior to making Telstar, Meek had melded his twin obsessions - electronics and the space race - to create his "Outer Space Music Fantasy" concept album, I Hear A New World with a band called Rod Freeman & the Blue Men. Sadly, and ignominiously, the album was shelved - unknown and unloved for years - until pop music had caught up with Meek and listeners were ready to hear his curious, challenging music. He was a pioneering producer whose homemade records stood toe-to-toe with those produced in the laboratory-like studios of Decca or EMI. Meek pioneered techniques that were frowned on or even ridiculed by the 'experts', but to him (and legions of pop fans) it sounded great.
It's believed that at least 5 million copies of Telstar were sold, and the track was the first British single to go to number one in the USA. But there wasn't to be a happy ending to this story. Meek didn't get much chance to bask in the glory of all this trailblazing success; he was sued by a French composer, Jean Ledrut, for plagiarism. The court case blocked Meek's royalties and the case was finally settled in his favour... but three weeks after Meek had committed suicide in 1967.
Joe Meek's pop music brought romance and heart to the '60s space race. Did you buy Telstar when it was released in 1962? Did the Space Race fire your imagination? The People's Songs wants to hear from you...
Clips

Share your comments and stories
Your contributions will play a key part in this episode, take a look at the questions below and
send us your thoughts
:
Did you buy Telstar when it was released in 1962?
Did you watch the Moon landing in 1969?
Did the Space Race fire your imagination?
Do you remember the start of Doctor Who?