Main content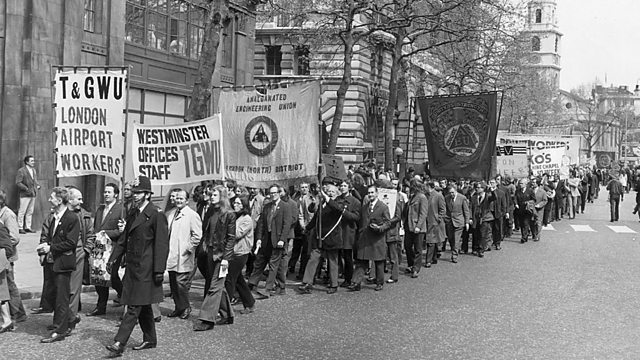 Part of the Union - We All Stand Together
Using satire rather than anger, the Strawbs caught the mood of the times. Theirs was a jaunty, wry and humorous anthem for the strike-bound 1970s.
Whilst The Specials Ghost Town can rightly be considered to be an angry or despairing snap-shot of the state of Britain, The Strawbs instead chose to poke fun at some of those in positions of power. Here was a jaunty take on the political conflict, a wry and humorous anthem for the strike-bound 70s.
Although the lyrics could be read as satirical of the trade union movement, the band has frequently stated that that's not the case at all. In fact the song was picked up by the trade unions and became something of an unofficial anthem for them.
In the early Seventies the British economy was suffering heavily from high rates of inflation and to curb this, the government capped pay-rises. At this time, the unions in Britain were at their most powerful and militant. Ambulance drivers, grave-diggers, civil servants and rail workers all went on strike. The National Union Of Mineworkers chose to work to rule, which created a shortage of coal and this coupled with the oil crisis meant the price of coal soared, leading to the notorious Three Day Week; so called because the commercial use of electricity was limited to just three consecutive days. On top of this, VAT came into being. The IRA was detonating bombs in London and Manchester. These were hard, turbulent times and the British people were keen for something to distract them. So while bands like The Strawbs chose to comment on the times, others we more than happy to be pure, unadulterated entertainment. It's probably no coincidence that glam rock exploded at this time. The razzle 'n dazzle, glitter and glam was the perfect anti-dote to Britain's misery. And it's little wonder that Slade's wistful, nostalgic Merry Christmas Everybody was such a huge hit come the end of 1973.
Share your comments and stories
Your contributions will play a key part in this episode, take a look at the questions below and
send us your thoughts
:
What do you remember about the 'Three Day Week'?
Were you a member of the trade unions?
Did you struggle to look after a family in the early '70s?
Did music help you get through tough times?