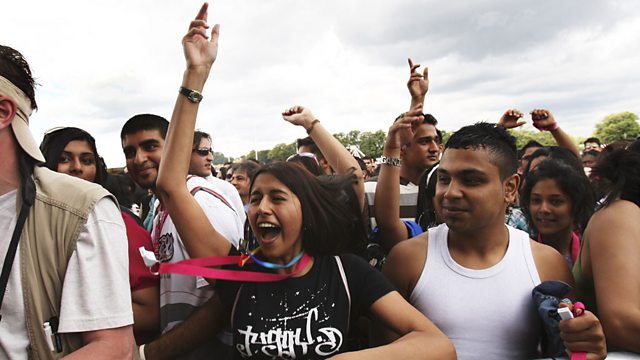 Brimful of Asha - The British-Asian Experience in Pop
Until the mid-eighties, the Asian influence on pop music appeared to be almost non-existent. If it did exist, it was tucked away in a cultural cul-de-sac. Of course, there was Cliff Richard (who was Indian-born), and the somewhat embarrassing stereotypes of Loren and Sellers' Goodness Gracious Me. Ravi Shankar enjoyed a moment in the spotlight on the back of The Beatles's dabbling with sitars and spirituality, but there was very little else of note. And whilst our national dish became the Tikka Massala (itself an Anglo-Indian hybrid) and was present in most British homes on a weekly basis, Asian pop was pretty much absent.
In the late eighties/early nineties Bhangra (essentially a mix of Punjabi folk music and western pop) received some attention as part of the general rise in interest in World Music, something that the WOMAD festival had arguably kick-started. But a more strident sound was emerging from the Midlands, and from Wolverhampton in particular. Early on in their career, Cornershop were pictured in the NME burning a photo of Morrissey who was then being vilified by the music press for alleged racism. And in much the same way that the comedy troupe Goodness Gracious Me had reclaimed their name from a negative racial stereotype, so too had Cornershop.
And whilst the earlier Cornershop material was particularly polemical and strong on social commentary, the song Cornershop became most famous for was a heartfelt tribute to Asha Bhosle, a female singer who'd sung thousands of songs for Indian films. The song also name-checks Marc Bolan and Trojan records, which further underlined the cross-cultural pollination that makes-up modern British culture. Also indicative of the nature of modern pop is the fact that the song only became a hit after it got the magic treatment from a superstar DJ. The first time around the single had peaked at number 60, but after Fatboy Slim re-mixed the track it shot to number one and repeated the trick world-wide. This tribute to a mostly unknown Indian singer appealed to a universal audience.
The 'Asian underground' reached a commercial and critical peak in 1999 when renowned tabla player Talvin Singh would win the Mercury Music Prize for his album OK. Later acts like MIA, Asian Dub Foundation and Black Star Liner combined rock, dance and Asian music with strong politics to storm the world's charts and stages.
So Wolverhampton's Cornershop embodied a non-metropolitan, Midlands, post-industrial perspective, one that was seen starkly in the next episode, Ghost Town.
Last on