Main content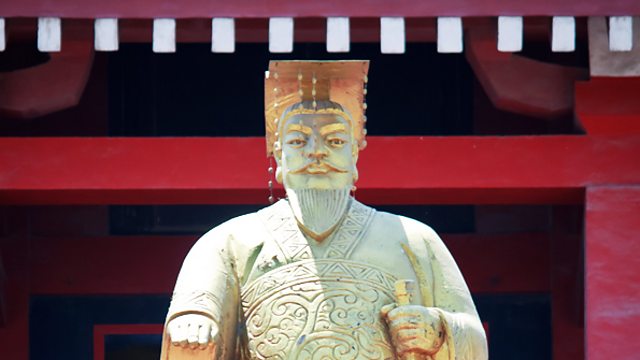 Qin Shi Huangdi: The Emperor
The Emperor who built a unified China but enslaved nations and buried scholars in the process. Hero or villain?
There are two Chinese leaders whose final resting place is thronged by tourists - Mao Zedong and Qin Shi Huang, the emperor of terracotta soldier fame.
But they also have another thing in common - Qin taught Mao a lesson in how to persecute intellectuals.
Chairman Mao Zedong has been dead for nearly 40 years but his body is still preserved in a mausoleum in Tiananmen Square.
The square is the symbolic heart of Chinese politics - red flags and lanterns flank the portrait of Mao on Tiananmen Gate where he proclaimed the People's Republic in 1949. But the red emperor owed the idea of this vast country to an empire builder who lived 2,000 years earlier.
Claiming the title of China's first emperor, Qin Shi Huang kick-started nearly 2,000 years of imperial rule, unifying China through economic and political reforms, and also via the construction of a massive nationwide road system.
But this was all at the expense of thousands of lives - and to maintain power he outlawed many books and buried scholars alive.
So, over 2,000 years later does history remember him as a hero or villain?
Presenter: Carrie Gracie
Producer: Neal Razzell.
Last on
Broadcast

Podcast
Carrie Gracie presents a series exploring ten great lives from Chinese history