Overcrowded markets
The view from the top of business. Presented by Evan Davis, The Bottom Line cuts through confusion, statistics and spin to present a clearer view of the business world, through discussion with people running leading and emerging companies.
Evan and his guests consider the perils and possibilities of doing business in an overcrowded market, with too many products chasing too few customers. And ahead of the arrival of the latest James Bond film, they swap thoughts on product placement and celebrity endorsement. How do you ensure your products are seen in all the right places and none of the wrong ones?
In the studio are Willie Walsh, Chief Executive of International Airlines Group; fashion and retail expert Kim Winser; Peter Bamford, Chairman of Supergroup.
Producer: Ben Crighton
Editor: Innes Bowen.
Last on
Evan Davis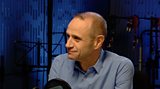 Evan Davis, Presenter of The Bottom Line
Kim Winser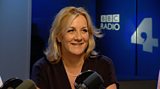 Fashion and retail expert Kim Winser.