Main content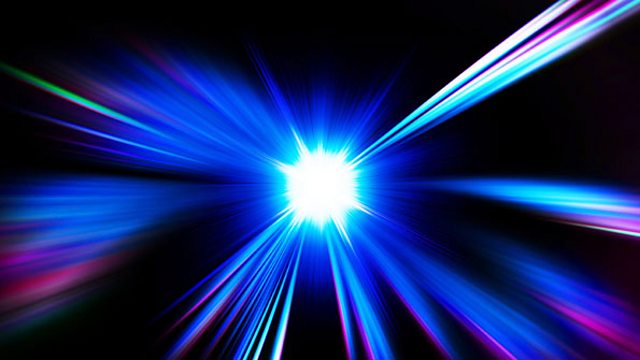 Hallucination: Through the Doors of Perception
Geoff Watts explores the science of hallucination. The phenomenon is probably as old as the human brain, and examples exist throughout history and across cultures.
Hallucinations aren't what they used to be. Time was when reporting a divine vision would bring fame or fortune, and have a queue of people wanting to touch your robe, receive a blessing, or recommend you for sainthood. The Enlightenment changed our view of hallucination and nowadays you'd be more at risk of being handed a prescription for a major tranquilliser or even sectioned under the Mental Health Act for reporting what you saw or heard. Hallucinating, in essence, the experience of seeing or hearing (and sometimes smelling or touching) something that by any objective measure, isn't there, has been linked to a wide variety of causes. From the use of mind-altering substances such as LSD, to the complex collection of often distressing symptoms labelled schizophrenia. Neurological damage, dementia, post-traumatic stress disorder, depression, stress, narcolepsy - all these and more have been linked to hallucination. But there are also examples of otherwise 'healthy' individuals who have experienced vivid and sometimes distressing hallucinations which for most of the last century, science has largely overlooked. But with the advent of fMRI scanning, where researchers can observe the hallucinating brain in action, it is these "healthy" individuals who are beginning to open the doors of perception and which may provide new insights and treatments for psychosis and schizophrenia.
In this programme, Geoff Watts meets researchers attempting to unlock the mysteries of hallucination as well as some of those who experience the phenomenon. Geoff visits Dr Dominic Ffytche of the Institute of Psychiatry in London, and undergoes a stroboscopic experiment designed to induce hallucinations in subjects whilst their brains are being scanned. We hear some of the vivid accounts from hallucinators, including Doris, who has macular degeneration. Over the last year, her failing eyesight has resulted in an array of objects and images appearing before her with startling clarity, from relatively benign baskets of flowers to the rather more distressing sight of dark, haunting figures sitting by her bed. Her condition is known as Charles Bonnet Syndrome and Dr Ffytche estimates that over 2 million people suffer from this in the UK alone, mostly in silence, due to the fear of being labelled as 'mad'. Geoff also visits Kelly Diederen's lab at Cambridge University, which is investigating the origin of auditory hallucinations - hearing voices. Common in people with schizophrenia, Dr Diederen is instead, scanning the brains of so-called "healthy hallucinators", individuals who otherwise lead perfectly functional lives save for the fact that they hear voices on a daily basis. Could they hold the key to understanding and treating a key symptom of psychosis? And Geoff talks to internationally renowned neurologist and author, Dr Oliver Sacks, about his own experience of hallucination as well as his new book on the subject.
Last on

Curious, unexpected and superbly quirky documentaries, introduced by Seren Jones.
Clips

Geoff Watts in Dominic Ffytche's lab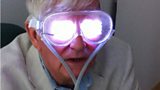 Geoff Watts in Dominic Ffytche's lab, wearing a device that stimulates hallucinations
Support Organisations
The Macular Society offers practical support and information to anyone affected by macular conditions, including information relating specifically to visual hallucinations and Charles Bonnet Syndrome.
Helpline: 0300 3030 111
http://www.macularsociety.org/
Information about Charles Bonnet Syndrome
http://www.macularsociety.org/research/Charles-Bonnet-syndrome
Royal National Institute of Blind People (RNIB) is a leading charity offering information, support and advice to almost two million people with sight loss, including information relating specifically to visual hallucinations and Charles Bonnet Syndrome.
RNIB helpline: 0303 123 9999
http://www.rnib.org.uk/Pages/Home.aspx
Information about Charles Bonnet Syndrome
http://www.rnib.org.uk/eyehealth/eyeconditions/conditionsac/pages/charles_bonnet.aspx
Mind is a leading mental health charity in England and Wales. It provides advice and support to empower anyone experiencing a mental health problem. The Mind infoline provides information on a range of topics including types of mental distress, where to get help, drug and alternative treatments and advocacy. They are also able to provide details of local help and support.
Mind infoline: 0300 123 3393
Mind: understanding psychotic experiences
http://www.mind.org.uk/mental_health_a-z/8043_understanding_psychotic_experiences.com
SAMH (the Scottish Association for Mental Health) exists to provide help, information and support; to campaign on behalf of people with mental health problems and to raise money to fund their vital work.
SAMH operates an information service from Monday to Friday between the hours of 2pm and 4pm. Information service staff and volunteers can answer general mental health enquiries, advise you on your rights and signpost you to your local services.
SAMH National Information Service: 0800 917 3466, Email: info@samh.org.uk
Rethink Mental Illness is a charity that believes a better life is possible for millions of people affected by mental illness. It runs services and support groups that change people's lives and challenge attitudes about mental illness.
For practical advice about issues such as treatment and therapy, medication, money and benefits call the Rethink Information and Advice Line on 0300 5000 927 Monday-Friday, 10am-2pm or email advice@rethink.org
For more information visit http://www.rethink.org/
Rethink: Hearing Voices
http://www.rethink.org/about_mental_illness/mental_illnesses_and_disorders/coping_with_hearing.html
SANE provides emotional support and information to anyone affected by mental illness. Their services are completely confidential and whatever your problems or concerns, you will receive non-judgemental emotional support. They can offer information and support for those who may have concerns about hallucinations relating to a mental health conditions such as schizophrenia or bipolar disorder.
There are 3 main ways to reach them:
Helpline: 0845 767 8000 (available 6pm – 11pm every day)
Email: http://www.sane.org.uk/what_we_do/support/email/
Support Forum: http://www.sane.org.uk/what_we_do/support/supportforum/
Website: http://www.sane.org.uk
Alzheimer's Society is a leading support and research charity for people with dementia, their families and carers. The Society provides information and support to people with any form of dementia and their carers through its publications, National Dementia Helpline, website and more than 2,000 local services throughout England, Wales and Northern Ireland. Their website includes information about different types of hallucinations that are sometimes experienced by people with dementia, and ways of responding to them.
National Dementia Helpline: 0300 222 1122
Alzheimer's Society: Hallucinations in people with dementia
http://www.alzheimers.org.uk/site/scripts/documents_info.php?documentID=172
Alzheimer Scotland helps people with dementia, their carers and families. Their members include carers, relatives, people with dementia, professionals, groups and organisations.
24 hour freephone  Dementia Helpline: 0808 808 3000,
Email: helpline@alzscot.org
http://www.alzscot.org/pages/info/behaviour.htm (a general page on challenging behaviour linked to dementia)
http://www.alzscot.org/downloads/lewybody.pdf (a factsheet on Lewy Body dementia, with specific reference to hallucinations)
The Lewy Body Society is a registered charity whose purpose is to fund research into Dementia with Lewy Bodies (DLB) and to promote awareness of DLB. They also hope to provide a community focus for those who suffer from DLB along with their carers and families. Two-thirds of patients with DLB experience vivid and recurrent visual hallucinations. Their website provides information to help those who need to understand the disease and its impact.
Parkinson's UK is a support and research charity, working to improve life for everyone affected by Parkinson's. The charity has a free, confidential helpline service staffed by trained advisers and specialist nurses who offer advice, information and support. Their website and helpline can both offer information about hallucinations or delusions that may be experienced by some people with Parkinson's.
Helpline: 0808 800 0303, Email: hello@parkinsons.org.uk
Hallucinations and delusions in Parkinson's information sheet:
http://www.parkinsons.org.uk/default.aspx?page=10538
ENDS
Broadcasts