Main content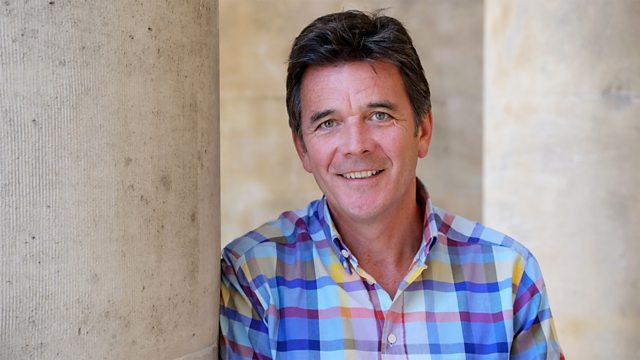 Edge of space, Laparotomy, Tremor, Pyjamas
How technology helps the human body to withstand the hostile conditions at the edge of space - as witnessed in Felix Baumgartner's leap from a balloon, 24 miles above the earth.
Felix Baumgartner's record-breaking freefall from the edge of space was witnessed online by 8 million people around the world this week. The jump was well-planned and included equipment to enable him to breathe at high altitude and low pressure. Dr Kevin Fong is the Wellcome Trust Public Engagement Fellow, and Associate Director of the Centre for Altitude, Space and Extreme Environment Medicine at University College London. He says that a pressurised suit would prevent his blood from "boiling" at the so-called Armstrong line - where pressure in the atmosphere means that boiling point of water is the same as body temperature. A previous attempt in the 1960s almost failed - when the pressurised suit leaked, causing swelling in one hand.
The chances of surviving a common type of emergency abdominal surgery are lower if you have the operation at night or over the weekend. The first report produced by the UK Emergency Laparotomy Network shows that the odds of survival vary tremendously between hospitals too - from a 96% chance of pulling through in the best units, to just 58% in the worst. The study involved 2,000 patients who had undergone the surgery at 35 different NHS hospitals. The patients who need this operation are often very sick - with a blocked bowel or suspected bleeding in the abdomen. Mike Grocott, who's Professor of Anaesthesia and Critical Care Medicine at the University of Southampton believes that this type of case should be given the best care possible - by a consultant surgeon and consultant anaesthetist. The published results are anonymised - but Dr Dave Murray who's a Consultant Anaesthetist at James Cook University Hospital in Middlesbrough, says data will be collected nationally and published in 2015, including the names of the hospitals.
One listener - a former artist and puppeteer - emailed Inside Health about his recent diagnosis of essential tremor. He's finding the shaking of his hands embarrassing and wonders what can be done about it. Professor Leslie Findley, who's Consultant Neurologist at the Essex Neurosciences Unit at Queens' Hospital in Romford, describes the options - from beta blockers to deep brain stimulation.
If you've ever spent time in hospital you may have worn an open-backed hospital gown - which often gapes in an undignified manner. But if you are a man on the urology wards at Solihull hospital in the West Midlands then you are in for a treat - pyjamas designed by the staff to preserve dignity and reduce the likelihood of complications. Consultant urological surgeon Mr Dev Sarmah is one of the team who came up with new design in response to a spate of blocked catheters in patients wearing conventional pyjamas.
Patient William Edwards in new pyjamas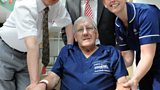 Mr Dev Sarmah, Nick Acaster from Alexandra (clothing), Sister Belinda Briand & patient William Edwards wearing a new design of pyjamas.
Programme Transcript - Inside Health
Downloaded from www.bbc.co.uk/radio4
THE ATTACHED TRANSCRIPT WAS TYPED FROM A RECORDING AND NOT COPIED FROM AN ORIGINAL SCRIPT.  BECAUSE OF THE RISK OF MISHEARING AND THE DIFFICULTY IN SOME CASES OF IDENTIFYING INDIVIDUAL SPEAKERS, THE BBC CANNOT VOUCH FOR ITS COMPLETE ACCURACY.
INSIDE HEALTH
TX:  16.10.12  2100-2130
PRESENTER:  MARK PORTER
PRODUCER:  PAULA MCGRATH
Porter
Hello and welcome to Inside Health - in today's programme:  Emergency abdominal surgery - why do survival rates vary so much depending on where, and when, you have your operation? We talk to the doctors behind the first ever report to identify a 10 fold variation in death rates among the NHS hospitals.  The shakes - I will be learning more about the most common form of tremor, and what can be done about it.  And pyjamas - we meet the team of doctors and nurses behind the latest alternative to those awful hospital gowns.
Clip
Patients don't want to wear gowns and flashing at the back and everything but these - patients like them, they're comfortable, we've had a few go missing so we can only presume they've gone home.
Porter
But first - that jump.
Clip
Release the helmet tie down strap.  Start the cameras.  And our golden angel will take care of you.
Porter
Like millions of people around the world I was transfixed by the images of Felix Baumgartner free falling from the edge of space. Besides a brief scare when he appeared to spin out of control, he made it look very easy. Of course it was anything but - particularly from a physiological perspective. Dr Kevin Fong is the Wellcome Trust Public Engagement Fellow and Associate Director of the Centre for Altitude, Space and Extreme Environment Medicine at UCL. Kevin, what are conditions like 24 miles above the earth's surface?
Fong
Utterly hostile to human life, doesn't want to support it for a second and freezing cold - minus 50-60 degrees Celsius.  Actually there is air up there, it's just a mixture of gases, but there is no pressure to drive it into your body.  So it's not a pleasant place to be.
Porter
Much of the attention's focused on Baumgartner's descent - quite rightly - but he's got to get up there to start with, so what are the challenges facing the team looking after him?
Fong
Yeah that's what I found quite compelling about the whole ascent, initially when people said oh you're going to watch this guy go up in a balloon for two hours, we thought that's not going to be much of a spectacle but as you see the altitude ticking off you realise what he's going through and so he has to contend with mainly the drop in pressure and the inability to drive oxygen into his lungs as he gets higher and higher.  And just to put it into perspective - if you acclimatise over weeks and weeks and weeks you can just about walk to the top of Everest, which is about 29,000 feet without supplemental oxygen, just - just about, that's probably the high altitude limit that acclimatise .... if you're going up in a balloon like that you're going to be unconscious at that altitude within seconds and he ascends and he ascends and he ascends and as he goes up he needs to add layers and more layers of life support to himself.  So you can breathe extra oxygen but that only gets you so far - you hit 40,000 feet and then you need to breathe pressurised oxygen, from a pressurised source, and then once you hit the Armstrong line, which comes in at about 60,000 feet, the Armstrong line describes this horrible part of the atmosphere where the pressure is so low that the boiling point of water - and that includes the water in your body - is equal to your core body temperature; so in effect the water of some of your soft tissues would just boil and bubble out of your body at that altitude. 
Porter
So to avoid your blood boiling you wear a pressurised suit that maintains an artificial pressure in there?
Fong
That is what you need a spacesuit for, spacesuits are effectively pressure suits.  And the other thing is that as the pressure decreases he runs another risk, that you don't really think about with ascent and ballooning, which is decompression sickness.  Now decompression sickness happens because you go from an area of high pressure to low pressure, so we think about that usually when people are diving, going from the deep up to the surface, but here he's going from ground level all the way up to the top and so he has to contend with that and try and prevent that. 
Porter
Because that's what - when divers get the bends they spend a time down there and the gases come out of their blood as they rise, so is that effectively happening to him when he leaves the earth's surface?
Fong
Yes in any situation in which you go from an area of high pressure to an area of low pressure and there's nitrogen around the excess nitrogen that's dissolved in your bloodstream is going to come out of your blood and those bubbles can cause problems.  So he got round that by breathing pure oxygen on the ground for a period of time to purge his body of nitrogen.
Porter
So his descent which is obviously much, much quicker all that - the pressurisation has to change, everything has to be adjusted as he's descending through the air?
Fong
The hazards on the way down are somewhat different actually.  Re-pressurising isn't that much of a problem, what are the problems on the way down were well his life support has to work, then he steps off this skateboard sized ledge and starts plummeting, at which point he's got to stay conscious, he's not going to go into an unrecoverable spin, his parachute has got to work and that's the breath hold moment.
Porter
I mean when you're spinning at that speed, travelling at that speed, what sort of effect does that have on your circulation and your chances of remaining conscious?
Fong
I remember just the infrared image of him sort of flipping head over heels like that, really looks worrying.  He can't control the way that he falls at that altitude, the air is too thin for him to basically do anything about controlling the way that he tumbles...
Porter
There's not enough resistance to use the old techniques that they use.
Fong
That's right and - because skydivers at normal altitudes can sort of swim in the air, there's not enough fluid pressure up there for him to do that.  And I think I saw reports that he tumbled about one revolution a second, which is quite a formidable rate, and what you've got to worry about there is whether the centrifugal and centripetal forces are going to move blood in your body either down towards your legs, in which case you can become unconscious through just the drainage of blood away from the heart and the brain, or in the other direction depending on where your centre of mass is spinning you - up towards your head and you're getting a red out as the blood comes in through the capillaries at the back of your eye.  So either way not very pleasant and both life threatening to him.
Porter
Now I was looking back at the history books, I mean the record he took was set by Kittinger in 1960 - 102,800 feet - when presumably technology wasn't anything - how did that jump go?
Fong
Well - so that was a pretty hairy jump and it had all of the same physiological principles threatening him but it was not straightforward.  I mean he lost a glove - or at least there was a leak in his glove - his hand swelled up, he was pretty close to not surviving that jump. 
Porter
Getting a man to 24 miles up and back may be a challenge but soon you're giving the Ellison Cliffe lecture at the Royal Society of Medicine which is entitled Medicine from Mars and presumably that's much more of a challenge but similar sorts of problems?
Fong
It's been a long interest of mine and thinking about how you protect people and how you provide medicine for them all the way out to Mars is really the boundary condition problem for me.
Porter
How long would a typical journey to Mars take?
Fong
Conventional propulsions - six to nine months outbound, six to nine months inbound.  But the problem is you don't get to choose when you come back - either you get to come back after about 30 days or the next time is one and a half years because of the way the planets change in positions relative to one another as time goes.  So you've got a mission that's either just over a year or nearly three years, which is a long time to spend in space.
Porter
Kevin Fong thank you very much.
Now, from the challenges of outer space, to the dangers of out of hours, and a new report showing that your chances of surviving emergency laparotomy - a common abdominal operation - are lower if the procedure is carried out at night, or over the weekend.
And the odds of survival vary tremendously between hospitals too - from a 96% chance of pulling through in the best units, to just 58% in the worst.
Mike Grocott is Professor of Anaesthesia and Critical Care Medicine at the University of Southampton.
Grocott
A laparotomy is a procedure where the abdominal cavity is opened and it can be conducted for a variety of reasons and it can be both elective, so planned, or as an emergency and the focus of our work has been the emergency laparotomies, of which there are probably somewhere between 30 and 50,000 taking place each year in England and Wales.
Porter
So it's a common problem.  What sort of medical conditions would prompt a surgeon to want to open someone up to have a look inside?
Grocott
Well focussing on the emergency laparotomies we're looking at, for example, where the bowel becomes obstructed, and that can be from a cancer, a tumour, or it could be inflammation of the bowel, for example, or it can be where there's bleeding inside the abdomen or part of the gut have leaked and so you've got the content of the gut outside the gut and that can be very bad for someone.
Porter
And these are all pretty serious conditions, you don't have a laparotomy unless there's a major problem, an emergency one anyway.
Grocott
They are in the vast majority of cases serious conditions where the implications are substantial, there's a possibility a patient may die and in a number of cases we don't really know what's going on inside, so they may be an exploratory procedure as well.
Porter
And these are being done out of hours as emergencies because presumably they can't wait until the next day?
Grocott
So they are being done out of hours, where we can we would endeavour to delay until daylight hours because there's a general belief that we can provide better care when we've got the most staff around, the most experienced staff, around but in some cases we are forced to undertake these procedures out of hours and that in some hospitals means that you may get a less senior surgeon or anaesthetist and in others they have arrangements to make sure that you do get a consultant surgeon or an anaesthetist.
Porter
What's the challenge for you in these sorts of procedures as an anaesthetist?
Grocott
These patients can be of any age but in general they tend to be a bit older and being older means it's more likely you'll have a complicating condition, so it might be diabetes, high blood pressure, those sorts of things which will raise the stakes - they make the risk of any operation greater.  And then in addition the condition for which they're having the operation may be quite serious, so if, for example, it's a tumour obstructing the gut then that person has an underlying cancer and that may have implications.  And so they're a relatively high risk procedure in that the chances of having a complication or even dying afterwards are substantial and that for us raises the stakes technically, so they need to be handled very carefully, they may need a higher level of monitoring during the operation, for example.
Porter
And presumably it's not just during the operation, once the operation - once the surgeon's found the problem and dealt with it the patient's still pretty sick.
Grocott
So there are many facets to this - there's properly evaluating the patient before surgery, so that the risk is recognised, managing them as best as you can during surgery and then in most cases sending them to an environment where they can be looked after with a greater degree of care afterwards, so an intensive care unit.
Porter
The UK Emergency Laparotomy Network's first report collected anonymous outcome data on nearly 2,000 patients who had undergone emergency surgery in 35 different NHS hospitals. Dr Dave Murray is Consultant Anaesthetist at James Cook University Hospital in Middlesbrough, and one of the report's authors.
Murray
Our audit showed that there was quite considerable variation in outcome across the UK, quite striking variation - 10 fold differences in outcome depending on which hospital...
Porter
By outcome you mean the survival rate?
Murray
In survival.  We looked at the 30 day survival after these operations.  In some hospitals the outcome was around eight - six or eight per cent - in other hospitals it's up at around 30%. 
Porter
What do you think accounted for that huge variation?
Murray
To some extent we don't have all the answers there, some of the variation will be down to patient factors - there'll be a lot of patients who are sicker than others because they're having surgery as an emergency procedure you don't have the opportunity to improve their conditions beforehand.
Porter
And by default these are a sicker group of patients if they're having it done at two o'clock in the morning?
Murray
Absolutely yeah.  If patients can wait for their operation during daytime and that tends to happen patients that are operated on in night - in the middle of the night tend to be sicker because they cannot wait until the next day.
Porter
But that's a problem that you would expect every hospital to have, they have a similar catchment area in terms of patients that are coming in, doesn't explain the inter-hospital variation.
Murray
The catchment area's an interesting one because what we also found with our data is that some hospitals perhaps do 15, 20 times the number of cases that other hospitals will do.  So if you're dealing with perhaps two of these patients a day you're likely to have the facilities available that would allow you to operate on two or three patients a day.  On the other hand if you're operating on one of these patients every week then you may not have the same facilities in place to be able to deliver the same sort of service that a larger hospital may have.
Porter
Who's doing these operations?
Murray
In many cases the care is provided directly by consultant surgeons and consultant anaesthetists.  In some cases that's not the case.  What we don't have from our data is an ability to tell whether the higher risk patients are getting the appropriate level of consultant input.
Porter
So what can you learn from the data - I mean how can we take this forward?
Murray
I think what this data highlights is that there is considerable variation and that variation needs to be looked at.  There are several reasons why outcome may be different across different hospitals, some of this will be down to the hospitals infrastructure, some of this will be down to the care that they receive, some of this will be down to the pathways of care that are implemented within a hospital.  And we do need more information to be able to draw those conclusions.
Porter
So how will you get that?
Murray
There is about to start a national emergency laparotomy audit which is being funded by the Healthcare Quality and Improvement Partnership.
Porter
At the moment this data in your first audit was anonymised, so we don't know which hospital they apply to, in future will you be identifying which hospitals have different rates?
Murray
Yes in future we'll be able to produce the outcomes for individual hospitals and they will be made available.
Porter
And presumably the aim here is to identify best practice and get everybody following that single code?
Murray
Absolutely and there are standards of care that have been issued recently by the Royal College of Surgeons of England in conjunction with the Department of Health and the audit will be comparing the care delivered in relationship to those standards.
Porter
Mike, one thing that might come out of the audit - I don't want to pre-empt the results - but it might that you do better when you're being looked after by senior staff, so when there's a consultant surgeon doing the operation and a consultant anaesthetist like you doing the anaesthetic but it's very difficult to provide that level of staff and that level of cover 24/7.
Grocott
Well I think most of us believe that that is probably the case at the moment and certainly the guidelines would reflect the view that for these sort of cases you should have a consultant surgeon and a consultant anaesthetist caring for you.  There is clearly a move within the NHS in general to provide a more 24/7 service for these types of case where the implications are very substantial and I think many intensive care units are already starting to look at staffing overnight, some hospitals already have 24/7 consultant anaesthetists present and for the new generation of surgeons and anaesthetists I think that's coming.
Porter
So it's quite a culture shift but actually you can't say that we only - that we're at our best between nine and five, that's no longer good enough in this modern age.
Grocott
No, I think there are substantial resource implications but for the emergency specialties it will become untenable, over a timeframe and I couldn't predict what that timeframe will be, but it will become untenable not to have the best care available at all times.  Some hospitals are already moving to a model of 24 hour working with consultants on shifts.
Porter
Professor Mike Grocott, and if you would like to read the UK Emergency Laparotomy Network's report then you will find a link to it on our website at bbc.co.uk/radio4 - just follow the links to Inside Health.
Don't forget, if there is an issue that is confusing you then you can get in touch - send a tweet with the hashtag insidehealth or e-mail me via insidehealth@bbc.co.uk
Ian, who is an artist and a puppeteer, has a query about shaky hands - he has been diagnosed as having essential tremor. It causes problems when drawing or writing, and can be embarrassing in company too as it's often worse when lifting cups of tea or coffee. Ian wants to know what can be done about it.
To find out I went to see Professor Leslie Findley, Consultant Neurologist at the Essex Neurosciences Unit at Queens' Hospital in Romford. So what is essential tremor?
Findley
It is the most common disorder of movement that we see in clinical practice.  It probably affects up to four per cent of the population, so there will be in the United Kingdom a million or more people with some form of essential tremor.  About 50-60% of patients will have a positive family history of tremor.  It can come on at any age, the common time for hereditary essential tremor to come on is in the mid to late teens and another point is the mid-fifties to sixties.
Porter
What do patients typically first notice?
Findley
Classically and almost invariably it's tremor or shaking of the hands but this has to be seen in the context and shaking of the hands can be normal, if we exercise or if we get excited our hands will naturally shake, there is a normal or physiological tremor.  Classically essential tremor is a tremor when the hands or limb is being used, when it's being held in posture.
Porter
So in this case picking up a cup of tea?
Findley
Picking up a cup of tea is - in fact picking up a cup is a test that we use.  Essential tremor is perceived as a mono-symptomatic illness, in other words patients have tremor and are otherwise well, they don't have evidence of other neurological problems.
Porter
Such as?
Findley
Well tremor can arise from a whole host of general medical problems, neurological problems.  For instances most listeners I'm sure will recognise that Parkinson's Disease can be associated with a very dominant tremor in some individuals.  This tremor is different in character.  Tremors can arise in general illnesses - in endocrine, hormone, disturbances and the common one, of course, is anxiety.
Porter
Our listener is having problems with drinks, drawing and writing and unfortunately is a puppeteer and an artist so you can imagine this is getting in the way of doing what he does, is there anything we can do about essential tremor?
Findley
Oh yes I think the most - the first thing is to get the diagnosis correct and the doctor, the general practitioner, will either be confident about diagnosis or I would recommend if there is any doubt to be referred on to a specialist, preferably a neurologist with experience in movement disorders.
Porter
Assuming that is confirmed, the neurologist says look you've got essential tremor, what's he or she likely to suggest?
Findley
Well then it depends on the severity.  For many patients being told they've got essential tremor is a relief because they go to the doctor thinking they have a more serious condition, initially they may not require any treatment or management except reassurance but then over time the tremor becomes more intrusive and they will want something to be done about it.  Now the first line of treatment would be medication and there are two groups of medications, first line medications, which can be helpful in some patients.  One is a group of medications called beta blockers and the obvious one of that group is propranolol and propranolol can suppress background essential tremor but what it does do is suppresses the exacerbation of essential tremor which will come when that person becomes excited, for instance if they're giving a lecture or they're in a social situation.  So propranolol can be used intermittently in some patients to cover them in special specific situations - social situations - or it can be used on a continuous basis.  It's not perfect because 20% of patients won't be able to take it because it's contraindicated in for instance in patients who have asthma and similar disorders. 
There is another drug which is classified as an anticonvulsant and that is primidone and this drug when properly used can be very effective in some patients, it can be highly effective, but it does carry a high risk of side effects which are not potentially serious but they're very unpleasant, so some patients won't tolerate primidone and when it's used it has to be built up very, very slowly.  Alcohol itself can be very effective in controlling essential tremor but there we have a problem - one or two units of alcohol will probably relieve tremor in 50 or 60% patients with essential tremor but the problem is that once the effect of alcohol wears off there is often a rebound effect, so the next day they have more tremor.
Porter
Is there any physical intervention in terms of exercises or physiotherapy that's ever been shown to make any difference?

Findley
Pragmatically I think that the physiotherapy here has little to offer for most patients.  Botulinum toxin injections into the tremulous muscles can be effective.
Porter
So you're effectively paralysing them?
Findley
Well you weak - you don't - weaken them but they are the drug of choice for head tremor because a head tremor can respond gratifyingly to Botox injections.
Porter
And you're putting that Botox into the neck muscles?
Findley
Into the active muscles of the neck.  Then of course there is in patients who have intrusive tremor, which can be career ending, then there is stereotactic treatments - neurosurgical treatments - and this can have a very good effect, it can virtually abolish tremors.  Nowadays we tend to use deep brain stimulators, we don't do - we don't carry out destructive lesions, we insert a high frequency electrode which stays in the brain and is connected to a power point under the skin in the chest wall.  Now the problem with that is that we're going into a treatment which is very expensive and secondly, there are risks involved, there is a one in a hundred risk of some neurological deficit as a consequence and of course there is a small risk of death, I personally in our unit we haven't had that experience but it has to be - if you're putting lesions in the brain - it has to be considered.
Porter
Looking as a general overview at someone with tremor what would ring alarm bells in you when you're looking at somebody either in the story or in the nature of the tremor?
Findley
From the history I would be concerned if it was of sudden onset.  If I found other neurological signs because lesions damage in various parts of the brain can produce tremor.  The behavioural characteristics of a tremor.  A common cause of tremor these days are medications and drugs.
Porter
Illegal drugs?
Findley
Illegal drugs - any drug that works through the nervous system can produce tremor as a side effect.  So these are the sorts of considerations I would be making and of course if I get a very clear picture of essential tremor and a positive family history in the absence of anything else then I'm home and dry.
Porter
Professor Findley. And if you would like to know more about the various types of tremor and their treatment then you'll find a useful link on our website bbc.co.uk/radio4 - just click on I for Inside Health.
Now, on a lighter note, what would you wear if you have to spend some time in hospital? Well, if you are a man on the urology wards at Heartlands or Good Hope Hospitals in the West Midlands then you are in for a treat - pyjamas designed by the staff to preserve dignity and reduce the likelihood of complications. Consultant urological surgeon Mr Dev Sarmah is one of the team who came up with the new design in response to a spate of blocked catheters in patients wearing conventional pyjamas.
Sarmah
Because our bog standard NHS pyjamas has a low fly it only opens by about three or four inches the patient used to hook up this catheter on to it and then I can see the result is a kink and that kink allows fluid not to drain, blood not to drain, they stop passing urine and the nurses have to do the honourable thing - it's what we call a bladder washout, which means they've got to put a syringe at the end of the catheter, wash it out, clots are coming out.  So that's how it all started, I got fed up with patients walking round with a catheter being hooked up like this and I said to Belinda and Heather that look I think we need to think about it.  To start with we cut quite a few pyjamas.
Gerard
I'm Heather Gerard and my job is nursing sister at Solihull Hospital. 
Brean
My name is Belinda Brean, I'm the ward manager of Ward 14 Solihull Hospital. 
Gerard
Belinda and myself sat down and drew a design.
Brean
We sat in the kitchen, didn't we, with coffee and I said to you - Heather, can you help me make these - didn't I and...
Gerard
I made my own pattern and then cut them out.
Brean
And when they were having the pyjamas previously everything was hanging out and there's no need for that - to be exposed at all.  I can show you a pair now, we've got a patient that's willing to show you.  If you'd like to come with me.  This patient's had his operation today and he's actually had his catheter straight post-surgery, so he hasn't got a catheter in at the moment.  So Victor would you like to stand up for me?  As you can see the pyjamas are very - the tops are very long, we've also asked them to do short sleeves because the infection control on other people's tables and things.  Victor, do you mind if I just show them your pyjama bottoms?  Okay?  If you could just hold that Victor for me a moment we'll just show them your trousers is that okay?  This here actually comes all the way down to the bottom, so the catheter comes out - so even if we need to look at the catheter the patient's fully covered.  Patients don't want to wear gowns and flashing at the back and everything but these - patients like them, they're comfortable, we've had a few go missing, so we can only presume they've gone home.
Sarmah
The design has also helped latterly for suitable for other procedures - people having a stoma, in this case you only need to open one flap and examine the stoma, one or the other, and I think in the last 12 months we have modified the metal stud.  If you're having to go into an MRI scanner you need to take off all your metal bits, so these metal studs have been replaced with plastic studs, so that we know that the trust as a whole do not need to get a separate pair of pyjamas to go through the MRI, the same pyjamas will do.  Once everybody is using it it'll be sensible for us to look at infection figures.  I think this is too early at the moment, we've only just what eight weeks since the trust has launched and been using it and the length of stay, if the patients are draining okay, it's also going to be reduced, and it is the length of stay that every trust hospital wants to reduce because it says that beds cost money.
Porter
Dev Sarmah who, I suspect, will be sticking to his day job as a surgeon, rather than moving into the fashion industry. But for the curious, there is a picture of those new pyjamas on our website bbc.co.uk/radio4.
In next week's programme I will be talking to a sleep expert about the best way to manage night terrors in children, and asking why so few people with diabetes are being offered insulin pumps. Join me then to find out more.
ENDS