Main content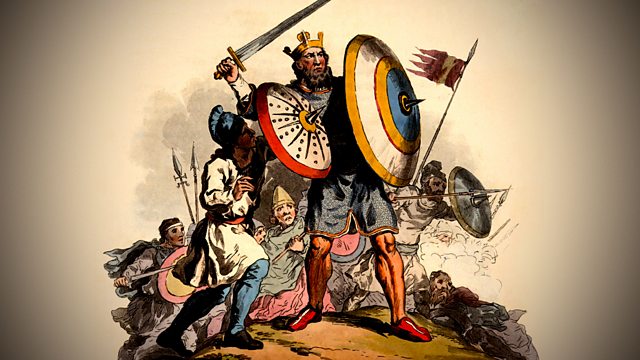 Departing Archbishop of Canterbury Rowan Williams focuses on St Augustine, the first-ever person to hold the role of Archbishop of Canterbury.
Portraits of thirty ground-breaking Anglo-Saxon men and women.
The Anglo Saxons are somewhat out of fashion, yet the half millennium between the creation of the English nation in around 550 and the Norman Conquest in 1066 was a formative one.
This major new series rediscovers the Anglo-Saxons through vivid portraits of thirty key individuals.
Contributors include Nobel prize-winner Seamus Heaney on the Beowulf bard; writer David Almond on the oldest surviving English poet, Caedmon; Michael Wood on King Alfred; Martin Carver on Raedwald; Richard Gameson on Eadfrith the Scribe; Helena Hamerow on the peasant-farmer; Geoffrey Robertson QC on the law-makers.
3. Departing Archbishop of Canterbury, Rowan Williams, on his predecessor, St Augustine, first ever Achbishop of Canterbury.
Rowan Williams tells the story of the arrival in Kent of Augustine, a nervous and untried young monk from Rome, sent by Pope Gregory to convert the barbarian Britons from their Pagan religions.
Drawing on the letters sent by Augustine to Gregory, he sympathetically imagines the feelings of isolation and uncertainty experienced by Augustine, and reflects on his particular areas of concern, many of which, to a modern eye, exhibit an unhealthy preoccupation with sex.
With his own characteristic blend of scholarship, humour and humanity, Rowan Williams paints a vivid portrait of a figure whose arrival in Kent he believes marked the true beginnings of English history and left a legacy on the history of the entire world.
Producer: Beaty Rubens.
Featured in...
A series which rediscovers the Anglo-Saxons through vivid portraits of individuals.