Main content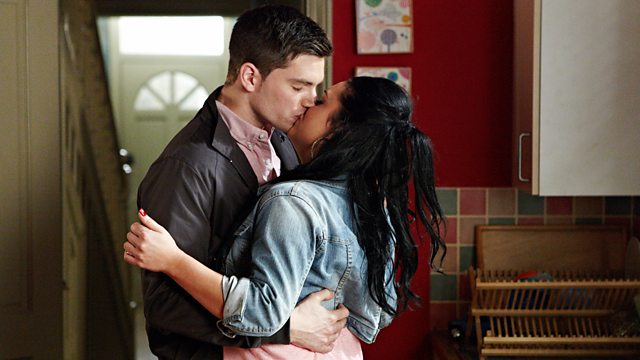 09/10/2012
Lola, distraught at losing Lexi, lashes out at those closest to her. Abi's 16th birthday doesn't go as planned when Derek makes a shocking announcement.
The police are amused when Derek calls them about Alice's mugging. Derek blames Tanya for the attack and thinks she should apologise. Dennis tells Jack his dad died saving his comrades. At Abi's party, Max gives Derek a bottle of whisky, supposedly an apology from Tanya. Tanya then hands the whisky to Alice suggesting she give it to Ray as a thank you. Alice asks Ray if he'll teach her self-defence. Derek overreacts when he realises Alice has left the party. Furious when Sharon offers her opinion, Derek brings up Dennis' father's murder in front of him. Jack backs Tanya up when she tells Derek to stay away from her family.
The Brannings belatedly celebrate Abi's 16th birthday with a party. They're excited at the thought of meeting Abi's new boyfriend and are shocked when a defiant Abi introduces Jay. Lola's hurt when she sees Abi and Jay kissing. Whitney's angry when Joey kisses her.
Billy and Lola attend court; it's decided Lexi will stay in care with another hearing in eight weeks. Lola's devastated. Billy asks Phil for help but Phil refuses. Abi consoles Lola. Sharon reminds Phil Lexi and Lola are currently the only family he's got. Jay bolsters a defeated Billy's confidence. Lola's thrilled when Billy reveals Lexi's coming for a visit tomorrow. When Phil arrives and offers help, Billy shuts the door on him – it's his family, they'll do it his way.
Masood's excited about his honeymoon plan and Zainab agrees to withdraw £500 from the Tamwar and Kamil account. After trying to extract money from Kim, Zainab goes to Syed - Masood can't know the account's empty. Syed borrows the £500 from Danny.
Ray's got the official nod for his 'Fighting Fit' scheme. He wants to celebrate and is annoyed when Kim's underwhelmed by his news.
Music Played
Timings (where shown) are from the start of the programme in hours and minutes
Credits
| Role | Contributor |
| --- | --- |
| Billy Mitchell | Perry Fenwick |
| Phil Mitchell | Steve McFadden |
| Lola Pearce | Danielle Harold |
| Jay Mitchell | Jamie Borthwick |
| Abi Branning | Lorna Fitzgerald |
| Lauren Branning | Jacqueline Jossa |
| Tanya Cross | Jo Joyner |
| Max Branning | Jake Wood |
| Cora Cross | Ann Mitchell |
| Derek Branning | Jamie Foreman |
| Alice Branning | Jasmyn Banks |
| Joey Branning | David Witts |
| Jack Branning | Scott Maslen |
| Sharon Rickman | Letitia Dean |
| Dennis Rickman | Harry Hickles |
| Kim Fox | Tameka Empson |
| Ray Dixon | Chucky Venn |
| Syed Masood | Marc Elliott |
| Danny Pennant | Gary Lucy |
| Christian Clarke | John Partridge |
| Masood Ahmed | Nitin Ganatra |
| Zainab Khan | Nina Wadia |
| Whitney Dean | Shona McGarty |
| Sgt Heathcote | Jack Pierce |
| Executive Producer | Lorraine Newman |
| Director | Steve Finn |
| Writer | Matt Evans |