Main content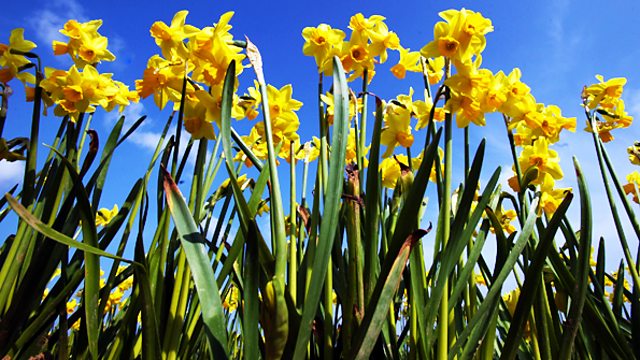 The Flower Fields
4 Extra Debut. Michael Bird investigates the history of the beautiful tiny flower fields of west Cornwall and the Isles of Scilly. From October 2012.
There's a gold rush in Cornwall; it's been going on for more than a century - producing the first flowers of spring, daffodils especially. Like mining, it's marked the landscape, and there are networks of tiny fields west of Mousehole and in the Isles of Scilly. Smaller than tennis courts, they nestle, safe from the wind between high hedges, warm on south facing terraced cliffs. From these old flower fields, called quillets, came something even more valuable than the 'Golden Harvest' of daffodils that bloomed earlier than anywhere else in Britain - delicate Cornish violets, carnations and anemones. From Victorian times to the 1960s fragrant bunches of these sped overnight by rail to reach the London markets in the morning.
The writer Michael Bird, who lives in St Ives, listens while Bill Harvey works the plots his father tended. They are too small to admit machines and depend on the long-handled Cornish shovel. At Churchtown Farm on St Martins in the Scillies, Keith Low explains how the fields were created, by first building, then moving entire dry stone walls. With the internet and the post these old fields have become key to a modern business.
Michael walks the cliff gardens with the archaeologist Graeme Kirkham, who interprets the landscape they pass through. He draws on the recorded memories of flower farmers and workers to recapture the life of the flower fields and the industry's mysterious skills and traditions - such as boiling the soil in huge cauldrons at the end of the season to sterilise it for next year's anemones. And he meets Bob Paterson at Covent Garden market who remembers selling the violets and anemones that came on the Penzance trains, and hopes he might again.
Last on
Broadcasts