Main content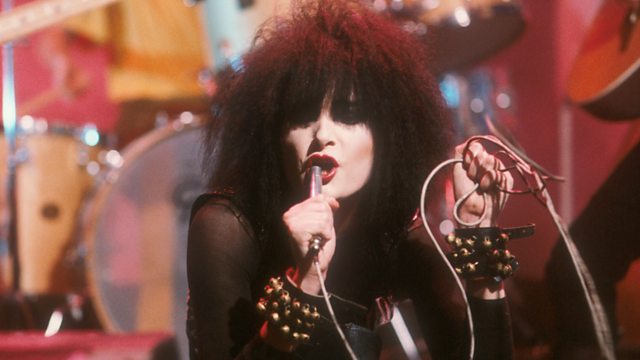 Spellbound: Siouxsie and the Banshees
Miranda Sawyer explores how one of music's most distinct artists emerged from the 'year zero' of punk. From 2012.
As the bright white heat of punk faded few bands survived and emerged from the aftermath, stronger and more unique than Siouxsie and the Banshees.
Led by the unmistakable force of Siouxsie Sioux and bassist Steven Severin, the Banshees carved a musical legacy that is without parallel.
Originally meeting as part of the 'Bromley Contingent' that gravitated around punk pioneers The Sex Pistols, Susan Janet Ballion met Steven Bailey at a Roxy Music concert at Wembley in 1975, bonding over suburban boredom, a love of Bowie, Hitchcock and 'Cabaret' style nocturnal fun.
Armed with a handful of ideas, suburban isolation, borrowed equipment, the duo entered the furnace of punk intent on smashing down the established musical order and sculpting a dark and alluring legacy.
Miranda Sawyer talks to Siouxsie about the legendary gig at the infamous 100 Club as well as her and Steven Severin's part in TV folklore by appearing on the Today show where the Sex Pistol's Steve Jones and John 'Rotten' Lydon' swore at presenter Bill Grundy revealing to the nation the filth and the fury of punk rock.
Through Banshee's biographer and fan Mark Paytress, journalist Alexis Petridis and acclaimed producer Nigel Gray, Sawyer unearths how the band quickly bolted from the fading spark of punk and carved out an unparalleled legacy of five albums in five years.
From 1978's stark, Velvet Underground inspired 'The Scream' through band fall-outs, commercial and critical success, to the neo-psychedelic, post punk of 'Kaleidoscope', the hugely influencial dark wave 'JuJu' and the quixotic, exotic and erotic and 'A Kiss in the Dreamhouse' this a unique insight into a genre and era defying band.
Producer: James Roberts
First broadcast on BBC Radio 4 in October 2012.
Last on
Broadcasts